News > Idaho
Speaking out about cancer
Sat., May 7, 2005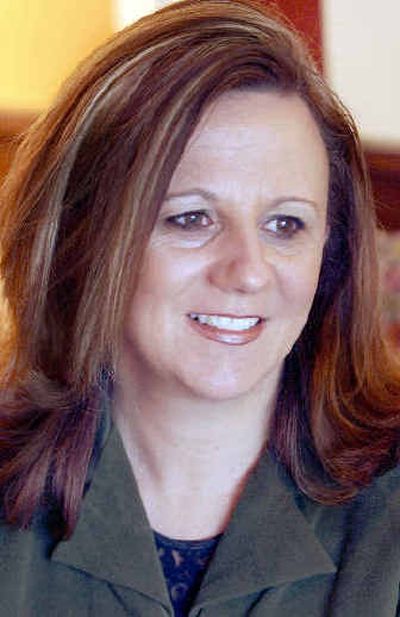 Heidi Cornman is cancer-free today because of early detection.
As volunteer chairwoman of the 2005 American Cancer Society's Relay For Life, Cornman is determined to spread the word and raise awareness about cancer prevention, early detection, and treatment. Cornman averages two presentations a week to community groups, chambers and school districts.
Relay For Life is scheduled for Friday and next Saturday from 6 p.m. until noon at the Greyhound Park Event Center in Post Falls.
Cornman is also a busy parent and full-time lending consultant for a Spokane mortgage corporation.
"I need two days' notice if you stop by my house for coffee," Cornman says with a chuckle.
Relay For Life "is a community gathering where everyone can participate in the fight against cancer, and represents the hope that those lost to cancer will never be forgotten, that those who face cancer will be supported, and that one day cancer will be eliminated," according to the organization's literature.
Team members set up campsites around a track and take turns walking, jogging or running during the 18-hour marathon. Each team raises money all yearlong by organizing car washes, bake sales and other activities. They also raise money by holding raffles at their individual campsites during Relay.
There have been some big changes made to Relay this year. First, the site changed to the Greyhound Park Event Center from Coeur d'Alene and Lake City High Schools.
The event center has all the amenities including tables, chairs, indoor plumbing and a building where people can escape in case of rain.
Second, the date of Relay was changed from mid-July to mid-May, primarily to increase youth participation, which is harder to enlist in the summer months.
"Relay is a community-owned and driven event and we want people from all over the county to attend. The event center is a central, easy to reach location," Cornman says.
The fund-raising goal this year is $125,000 – a significant jump from the 2004 goal of $100,000.
Twenty to 30 planning committee members have been meeting for more than 10 months to organize Relay, but volunteers and corporate sponsorships are still needed.
The Nick Schrierman Band will provide music, and food has been donated by Qdoba Mexican Grill. There will be a silent auction, a classic car show, and free massages for everyone. The Red Hot Mamas will complete a lap for cancer prevention, and Cornman wants to encourage the public to attend.
"This is a family, fun event," she says.
When the sun goes down, hundreds of luminarias light the way under the stars to remember those lost to cancer, in honor of someone still fighting cancer, or in special recognition of someone who has beaten the disease. Names are read aloud in a ceremony that can take an hour to an hour and a half.
"The ceremony of light symbolizes the hope and perseverance with which we all continue to fight," says Cornman.
Relay kicks off with the Survivors Lap, and Cornman says it is "symbolic of the strength and courage of a community who is making progress in the battle against cancer."
Cornman easily quotes cancer statistics by heart, without missing a beat.
"In a room of 10 people, three people will die of cancer," Cornman says. "We lose more people to cancer than to AIDS, natural disasters and car accidents all combined."
One in three Americans will be diagnosed with cancer in their lifetime, 500,000 people a year will die from cancer, and one-third of youth smokers will die from tobacco related illnesses, she says.
"We have people come from all across the U.S. to participate in Relay," Cornman says. "One family holds a reunion at the track every year to celebrate their mother's life."
Cornman's volunteerism is an integral part of her belief that, as a parent, her responsibility is to lead by example.
"I want my daughter to grow up, be a productive member of society, and to believe she can make a difference. If I save even one person, all my efforts are worth it."
Local journalism is essential.
Give directly to The Spokesman-Review's Northwest Passages community forums series -- which helps to offset the costs of several reporter and editor positions at the newspaper -- by using the easy options below. Gifts processed in this system are not tax deductible, but are predominately used to help meet the local financial requirements needed to receive national matching-grant funds.
Subscribe now to get breaking news alerts in your email inbox
Get breaking news delivered to your inbox as it happens.
---