Woman pleads guilty to faking husband"s death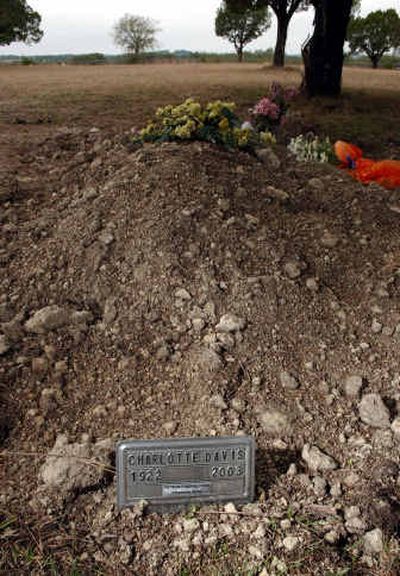 GEORGETOWN, Texas – Molly Daniels spent weeks surfing the Internet, gathering information for a bizarre and grisly plot of deception.
She learned how to burn a human body beyond recognition. She sought clues on ways to deceive arson investigators and took meticulous steps to create a new identity for her husband.
Daniels then dug up a woman's corpse, staged a fiery car accident to fake her husband's death, and had him re-emerge as her new boyfriend. Authorities say it was all to collect a $110,000 life insurance policy while hiding her husband, Clayton Daniels, from the cops.
Molly Daniels pleaded guilty this past week to felony charges of insurance fraud and hindering apprehension, and was sentenced to the maximum 20 years in prison.
"This was a ghoulish, horrific crime," prosecutor Jane Starnes at the sentencing hearing Thursday.
Molly Daniels, 22, insisted the plan wasn't motivated by greed, but rather was a desperate attempt to keep her husband out of prison stemming from a sexual assault charge.
"It was about keeping our family together," she tearfully told jurors.
The plot began to take shape last year after Clayton Daniels, 24, pleaded guilty to sexual assault charges. He was allowed to stay out of prison after the plea, but never reported to his probation officer, drawing a 30-day jail sentence.
Three days before he was to report to jail last June, police found a burned-out Chevrolet at the bottom of a roadside cliff. The corpse behind the wheel was unrecognizable, its head and limbs burned away.
"Even the metal on the car was melted, it was so hot," said Thomas Vasquez, Molly Daniels' defense attorney.
Molly Daniels told friends and relatives her husband had died. Her co-workers raised $1,000 for her and attended a memorial service.
A few weeks later, Molly Daniels introduced "Jake Gregg," her new boyfriend, to their children, ages 4 and 1.
He looked a lot like Clayton Daniels but had dyed black hair. Investigators say Molly Daniels also had forged documents to create a new identity for him, including a fake birth certificate and a Texas driver's license.
Neighbor Scott Regier said he had barely known Clayton Daniels, and never got a good look at "Jake Gregg" because the man was rarely outdoors.
"Before the whole incident, we'd wave and say hello," Regier said. "Afterward, when they pulled in the driveway, she would get out of the minivan, open the garage, and he would pull in. The guy never got out."
Investigators had been suspicious from the start. The accident scene had no skid marks or signs of a high-speed crash. The hottest spot of the fire was the driver's seat, and charcoal lighter fluid had been used as a fire accelerant. DNA samples from the burned corpse couldn't be matched with one from Clayton's mother.
Searches of their home and the computer Molly Daniels used to surf the Web revealed the scheme to get Clayton a new identity. Officers also found a list of plastic surgeons in Mexico.
Investigators said Molly Daniels told them the body was taken from a cemetery a few miles away. The body was an 81-year-old woman who had died in 2003 and was buried in an area used for people who can't afford a burial plot or have little or no family.
"We felt because she was older; there would not be much family impact, if any," Molly Daniels testified.
Vasquez said he couldn't explain why anyone who went to such great lengths to mislead investigators would stay in their home where they could be so easily discovered. But he said the fact that they didn't leave proves that their motive wasn't insurance fraud, he said.
"This wasn't about money. They could have taken the money and gone to Mexico," Vasquez said. "She felt everything was falling apart and had to take action somehow. It was misguided, but (her family) was the motivation."
Molly Daniels' father, John Honea, attended his daughter's sentencing.
"I thought I taught her better," Honea said.
Clayton Daniels is in custody awaiting trial on arson charges. He could face up to 20 years.
---