News > Spokane
Gregoire approves gas tax increase
Tue., May 10, 2005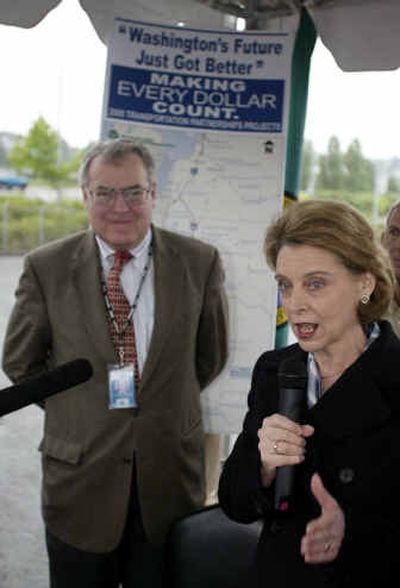 OLYMPIA – Calling Washington's transportation network "the backbone of our economy," Gov. Christine Gregoire on Monday signed into law an $8.5 billion transportation spending plan anchored by a 9.5-cent gas tax increase.
The increases will start in July with a 3-cent boost, to 31 cents a gallon. Three other annual increases – 3 cents, 2 cents, then 1.5 cents – will follow. The package also includes new vehicle weight charges and increases in fees for driver's licenses, permits and similar documents.
The plan – which opponents hope to challenge with a voters' initiative this November – includes $2 billion to help fix Seattle's Alaskan Way Viaduct and $500 million toward replacing the nearby SR 520 floating bridge. Both are decades old and seen as vulnerable in the region's next major earthquake.
Gregoire, speaking on a bus tour of Puget Sound's congested highways, acknowledged that with gas prices near record highs, it's not an ideal time to raise taxes.
"So when is a good time?" she said. "There isn't. You either do it or watch the Viaduct pancake, or 520 go down in the next 77-mile-per-hour wind. What the public expects, fundamentally, from government is safety."
Critics of the package have raised more than $82,000 to launch an initiative that would veto the tax.
"Our legal team is writing the initiative … We hope to file it this week," said Kirby Wilbur, a conservative Seattle talk-radio host. Fellow talk-radio host – and former GOP gubernatorial candidate – John Carlson and Seattle-area Republican political consultant Brett Bader are also helping organize the initiative.
Wilbur said the spending package is "Seattle-centric" and poorly-planned. It should focus more on adding lanes of roadway and less on public transit, he said.
"We think we need to force a change in transportation policy before we just give them a blank check," he said.
So far, Wilbur said, more than 6,000 people have signed up on the group's Web site, www.nonewgastax.com, to gather signatures. To get the measure on the ballot, the group would have to gather 225,014 signatures by early July.
"With that kind of money and those numbers of volunteers, I think we stand a pretty good chance," Wilbur said.
Democratic and some Republican lawmakers approved the plan last month, after some 11th-hour prodding by Gregoire.
"The investments we make will save lives, move people and products, and make our state economy strong," the governor said Monday. The roadwork, bridge repairs, train projects and other work will also spawn thousands of construction jobs across the state, she said.
With much of the money flowing to Puget Sound projects, many Eastern Washington lawmakers were unhappy with the spending plan. After four years, the state gas tax will be nearly 38 cents a gallon. Nearby Idaho's state tax – unchanged since 1996 – is 25 cents.
Local business groups were also hoping for more spending on local projects.
"Historically, Spokane (County) received about 10 percent of any incremental package like this," said Rich Hadley, president of the Spokane Regional Chamber of Commerce. "In this one, we got something like 2 percent."
The 16-year spending plan includes $152 million for the North Spokane Corridor, a long-planned link between U.S. 395 and Interstate 90. But the state Transportation Commission, Hadley said, had suggested $451 million for the project.
He said the chamber was also lobbying for $70 million to widen I-90 between Sullivan and Harvard roads. That money wasn't included in the spending plan.
Local journalism is essential.
Give directly to The Spokesman-Review's Northwest Passages community forums series -- which helps to offset the costs of several reporter and editor positions at the newspaper -- by using the easy options below. Gifts processed in this system are not tax deductible, but are predominately used to help meet the local financial requirements needed to receive national matching-grant funds.
Subscribe now to get breaking news alerts in your email inbox
Get breaking news delivered to your inbox as it happens.
---