News > Business
Kerkorian moves ahead on GM shares
Tue., May 10, 2005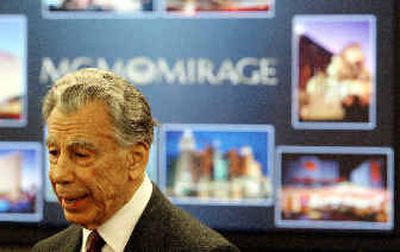 DETROIT — Billionaire investor Kirk Kerkorian went ahead Monday with an offer to buy up to 28 million GM shares — a bid that would roughly double his stake in the automaker — despite last week's downgrade of GM debt to "junk" status. Shares of the world's largest automaker rose slightly.
Kerkorian's investment firm, Tracinda Corp., is offering nearly $870 million, or $31 per share, according to documents filed with the U.S. Securities and Exchange Commission. If all 28 million shares are purchased, Kerkorian would own 8.84 percent of GM's shares, or a total of 50 million. The offer is set to expire June 7, the day of GM's annual meeting in Wilmington, Del.
Shares of General Motors Corp. closed up 57 cents, or 1.9 percent, to $31.33 Monday on the New York Stock Exchange. The shares rose another 58 cents in after-hours trading.
GM's stock price soared more than 18 percent last week when Kerkorian announced his plan, but the shares tumbled the next day when Standard & Poor's Ratings Services downgraded GM's debt to below investment grade. GM shares fell another 10 cents Friday to close at $30.76.
GM said Monday it will review Kerkorian's offer and file comments with the SEC by May 20, as required by law.
In its filing, Tracinda insisted it is acquiring the shares for investment purposes only and does not intend to acquire or influence control over GM's business. But Kerkorian has never been known as a passive investor. The 87-year-old is in the middle of a five-year legal battle over terms of the 1998 merger of Daimler-Benz and Chrysler Corp. that formed DaimlerChrysler AG. Kerkorian was a major Chrysler shareholder.
"Unless he sees the money come in pretty quickly, he will become irritating," said Gerald Meyers, a former chairman of American Motors Corp. who now teaches at the University of Michigan. "Everybody feels somewhat defeated by this turn of events. It's a sad day for GM that this guy has come after them."
Meyers added it's not surprising Kerkorian went ahead with his offer despite the S&P downgrade.
"He's really committed," Meyers said. "He has a track record, and when he decides to go after something, he goes after it."
Tracinda didn't address the downgrade in its statement Monday, and a Tracinda spokeswoman didn't return a telephone message seeking comment. Beverly Hills, Calif.-based Tracinda is the majority owner of casino and hotel operator MGM Mirage Inc.
Some analysts have suggested Kerkorian's presence could light a fire under the struggling automaker. GM shares fell to a 10-year low in April after the company reported a $1.1 billion loss for the first quarter.
GM may be seeking some relief by increasing its hybrid vehicle offerings, though it denied an online news report that it is in talks with Toyota Motor Corp. about a technology-sharing agreement. Toyota also denied Monday that the two companies are in talks, although the Japanese automaker said it's willing to discuss such a partnership.
Local journalism is essential.
Give directly to The Spokesman-Review's Northwest Passages community forums series -- which helps to offset the costs of several reporter and editor positions at the newspaper -- by using the easy options below. Gifts processed in this system are not tax deductible, but are predominately used to help meet the local financial requirements needed to receive national matching-grant funds.
Subscribe now to get breaking news alerts in your email inbox
Get breaking news delivered to your inbox as it happens.
---