News > Spokane
Mayor's offer of posts, sexual advances amount to abuse of office, men say
Tue., May 10, 2005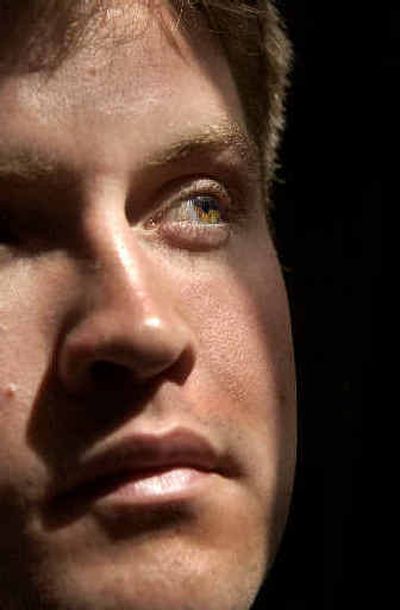 High-salaried City Hall jobs and a position on a city policy-making board were offered independently to two young men after they met Mayor Jim West in an Internet chat room, both men told The Spokesman-Review on Monday.
Ryan M. Oelrich, a 24-year-old openly gay man, said he was appointed by West to the city Human Rights Commission in April 2004 but didn't know at the time that West was the same man he'd met earlier on Gay.com who was using the screen aliases "Cobra82nd" and "RightBi-Guy."
A second man, who asked not to be identified, said West offered him a job as the city's "human resources director" during the same period of time.
"I stated I felt I wasn't qualified, and the mayor replied that it just depended on the mayor liking you," said the 24-year-old man who does not live in Spokane and whose family does not know he's gay.
When he rejected the job offer, he said, West offered him a job as a "recreation supervisor," which he also rejected. The man said he has a business degree.
The allegations by the two men came on the same day West told the Spokane City Council he is taking a leave of absence to prepare a defense to allegations that he sexually abused boys dating back to the late 1970s and that he has misused positions of public trust.
Jim Gotzian, chairman of the Human Rights Commission, said Monday he was "surprised to the point of shock" about the abuse-of-power controversy swirling around West, his old friend.
David Levitch, also a lifelong friend of West, declined comment on Oelrich's resignation. Levitch said he recently resigned from the commission, frustrated that it wasn't doing more to combat discrimination.
Oelrich told the newspaper he received an online "instant message" from Cobra82nd on the same day he was appointed to the Human Rights Commission.
"(West) did not reveal his identity (but) told me I was very attractive and should meet him for dinner," Oelrich said.
Last June, three months after his appointment, Oelrich began to wonder if Cobra82nd, who was "dropping hints" during their online chats, was in fact the mayor.
To confirm his suspicions, Oelrich said he asked West if he was Cobra82nd and West said yes.
Oelrich said that a month later West told him his "motivations for wanting to appoint me to the commission was simply so he could meet me, get to know me."
While serving 10 months on the commission, Oelrich said, he rebuffed a series of sexually explicit online advances from West.
A month after getting the appointment, Oelrich said, he was looking for a job and West suggested "that he had an internship program and that I would be great for, that I should come in. He also said there were other positions in city government that he would love to hire me for."
On another occasion, Oelrich said West "offered me $300 cash if I'd swim naked with him in my swimming pool."
"I declined and told him that was inappropriate," Oelrich said on Monday. It was at that point, Oelrich said, that he found out West "had been driving over to see where I lived" and knew it was near a city dirt road that needed paving.
"He asked me what I would do if he just showed up at my door one night," Oelrich said. "I declined his visit and told him that showing up at my door would alarm me. I was very worried …"
In what he viewed as another "sexual advance," Oelrich said West invited him to accompany the mayor to a Gonzaga Bulldogs basketball game in California.
"He told me there would be one bed in the hotel room, and I would have to share it with him," Oelrich said. "He told me he would pay for all the expenses."
Oelrich said he initially thought he was appointed to the commission "because of my experience and commitment to human rights in Spokane, which is what I told my friends and family, without realizing it was simply a way for the mayor to meet me and to ask me out on a date because he thought I was hot."
Oelrich said he spurned all of West's sexual advances and suggestions the two go on a date, but agreed on one occasion to help the mayor go to a warehouse hardware store to buy shelving and related hardware.
Upon returning to the mayor's house, Oelrich said, West "offered dinner and perhaps a movie while we sat on the couch." Oelrich said he declined.
"I got the distinct impression he wanted more to happen on the couch than just a movie," Oelrich said.
After that, instant messages continued to arrive from the mayor, Oelrich said, but "I rarely responded."
Oelrich provided the newspaper a copy of a Feb. 6 instant message conversation he had with West, who was using the screen name "JMSElton" for those conversations.
"Come on," JMSElton said. "You gotta give me at least a chance Ryan. You know you like me."
Oelrich, using the screen name, GonzagaRy, responded: "I run fast. No worries."
JMSElton: "No worries, but no date?"
GonzagaRy: "You'll have to try a little harder to anger me."
JMSElton: "I don't want to anger you, I want to entice you."
Later in the conversation there was this exchange:
GonzagaRy: "No, Jim, as I've said before, I'm not interested in you. I respect and appreciate you, but I just don't feel any sparks or pricks of cupid's arrow."
JMSElton: "So sad. The people that do want me, I don't want them, and the people I want don't want me."
Last month, the young man said, the mayor messaged him and "made a joke about wanting to seduce some young boy he'd come across on one of his business trips. I told the mayor I was very offended by his joke and found it highly inappropriate. I terminated the conversation."
West sent several follow-up messages, "apologizing for his behavior and asking me if I was still mad at him," Oelrich said. "I terminated the conversations with the mayor over a dozen occasions, and he would frequently leave messages on my computer apologizing and asking me to continue talking to him."
Oelrich said he "finally came to the conclusion in November that continuing to serve in (the commission) position would be unethical." He resigned in January.
The second man, who is a friend of Oelrich, also met Cobra82nd on Gay.com. During their online conversations, the man said, West asked for recommendations to the Human Rights Commission. The man said he recommended his friend Oelrich.
The man, who asked to remain anonymous, said West has abused his office.
"I feel like anytime somebody is appointed to a position or put on a commission with motives other than the well-being of the community, that that is a misuse of power," the unidentified man said. "In this circumstance, it appears like the mayor appointed Ryan to the Human Rights Commission for his own gratification, and I think that's tragic."
A computer program allowed the two men to save some of their "instant messages" with West, who used a different screen name – "JMSElton" – for the AOL conversations. West's middle name is Elton.
Oelrich and his friend said their online conversations with West substantially paralleled conversations West had between February and April with "Moto-Brock," a fictional Ferris High School student created by a forensic computer expert hired by the newspaper. The two men said they read the "Moto-Brock" transcripts in the newspaper. In those dialogues, West also used JMSElton as an instant message screen name.
"As I read some of the transcripts, it helped me and a colleague connect the dots, so to speak, and realize a pattern of inappropriate behavior was the same thing we experienced," Oelrich said.
The expert was hired by the newspaper late last year in an attempt to confirm the claims of an anonymous 18-year-old man who said he met West online. The 18-year-old told the newspaper West was using the screen names "Cobra82nd" and "RightBi-Guy." The 18-year-old said he and West had consensual sex last June.
West on Wednesday acknowledged that he visited Gay.com and developed relationships with various men including the 18-year-old who talked to the paper.
Oelrich said he quietly resigned from the city's Human Rights Commission in January after West "hounded me for months, telling me I was cute and asking me out on dates."
Oelrich, who heads a nonprofit organization for young gay men, said, "I really realized that the mayor, being in the position he is in, is a threat to gay youth in this community."
Oelrich said he wasn't going to come forward publicly when news reports of West's conduct were first reported last Thursday in the newspaper.
"I was actually hoping that the mayor would resign, and because he still hasn't I felt it was important that this information did come out," Oelrich said.
He turned to the media, he said, after talking with his friends and not being able to find a governmental agency where he could file a complaint about West's conduct.
Gotzian, a retired stockbroker, said he's been a friend of West's since high school.
Gotzian said he didn't know the reason for Oelrich's resignation until last Thursday, when the first Spokesman-Review stories on West were published.
"When the news broke, I got a phone call from Ryan with an explanation. He told me there were instances of inappropriate behavior involving the mayor. He told me what he told you," Gotzian told a reporter.
Gotzian said he's "surprised to the point of shock" about the abuse-of-power scandal swirling around West, his old friend.
Brad Read, a high school English teacher and commission chairman under former Mayor John Powers, said he was not surprised Oelrich was appointed.
West ousted Read, a strong supporter of city benefits for unmarried domestic partners, from the commission last spring. West told him he didn't want an overtly political commission, Read said.
Mike Kress, commission vice chairman first appointed under Powers, said he didn't know West was pressuring Oelrich for dates.
"I had no idea this was going on," Kress said. "I had no idea how Mayor West came to appoint Ryan because knowing West's political history I was surprised that he appointed a gay man."
But it's one more example of how West, in the Legislature and in Spokane, has hurt the gay community, Kress said.
The commission was puzzled about the criteria West was using for City Hall appointments after he appointed Vang Xiong, a Laotian man found responsible in 1989 for violating the civil rights of two Laotian Hmong women who accused him of rape. The court returned a $225,000 civil judgment against him.
The controversy, outlined in a May 2004 Spokesman-Review story, died down, Kress said, and Vang Xiong is still on the commission.
"We wanted to know how West was picking the people he was picking. But there was never any answer," Kress said.
Oelrich didn't help out with the domestic partnership ordinance, Kress said. The commission recommended its passage, and the City Council enacted it by a 5-2 vote last month.
Kress said West's conduct with Oelrich is an abuse of power. "I believe Mayor West should resign because his actions and his politics over the years have been detrimental to the lives of homosexuals in Washington and in our city," he said.
Local journalism is essential.
Give directly to The Spokesman-Review's Northwest Passages community forums series -- which helps to offset the costs of several reporter and editor positions at the newspaper -- by using the easy options below. Gifts processed in this system are not tax deductible, but are predominately used to help meet the local financial requirements needed to receive national matching-grant funds.
Subscribe now to get breaking news alerts in your email inbox
Get breaking news delivered to your inbox as it happens.
---