News > Business
Top two online brokers reportedly in merger talks
Tue., May 10, 2005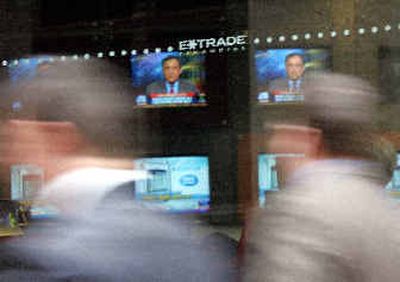 OMAHA, Neb. — A desire to cut costs amid falling trading volumes could be behind the reported merger talks between the nation's largest online stock brokerages, analysts say.
Citing unnamed sources, The New York Times reported in its Monday editions that E-Trade Financial Corp. made an unsolicited bid to buy Omaha-based Ameritrade Holdings Corp. for more than $5.5 billion. The offer was made Friday, even as Ameritrade has been holding secret negotiations to buy a third brokerage, TD Waterhouse, the Times and the Wall Street Journal reported.
A spokeswoman for Ameritrade told The Associated Press on Monday that the company would not comment on the report.
Following the reports, Ameritrade shares soared 19 percent, or $2.16 a share, to close Monday at $13.47 on the Nasdaq Stock Market.
Matthew Fischer, an analyst with IRG Research, said that in a climate of declining trade commissions and dropping trade volume, a merger would make sense for investors.
"You can get rid of some of the operations and some of the marketing costs and just throw more trades down your existing pipeline," Fischer said. "It enables them to keep reasonably good margins in a revenue-per-trade environment."
While investors might like the idea of consolidation, those who control Ameritrade — like chairman J. Joe Ricketts and the Ricketts family — might not, Fischer said.
"Ameritrade wants to maintain control of the company in any type of merger. This could pose a problem going forward," he said. "At the end of the day, it comes down to … how much control the Ricketts family will be willing to cede in being acquired."
Matthew Snowling, a financial analyst with Friedman, Billings, Ramsey Group Inc. in Arlington, Va., said soft trading volume is a factor in any merger or takeover attempts, but said consolidation of online brokerages just makes sense for investors in the long run.
"I think we're heading in one direction here, and that's change," Snowling said.
Local journalism is essential.
Give directly to The Spokesman-Review's Northwest Passages community forums series -- which helps to offset the costs of several reporter and editor positions at the newspaper -- by using the easy options below. Gifts processed in this system are not tax deductible, but are predominately used to help meet the local financial requirements needed to receive national matching-grant funds.
Subscribe now to get breaking news alerts in your email inbox
Get breaking news delivered to your inbox as it happens.
---