News > Idaho
Charities gain from Ironman pain
Mon., May 16, 2005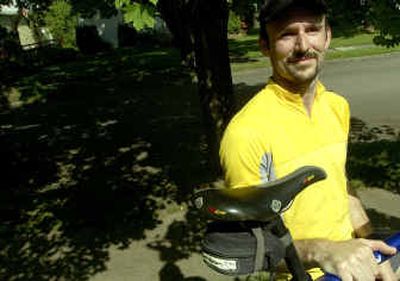 An Ironman triathlon was not on Doug Evans' to-do list until his father was diagnosed with stomach cancer last year.
Evans and his wife, Amy Evans, have been volunteers at Ironman Coeur d'Alene, a race in late June in which participants swim 2.4 miles in Lake Coeur d'Alene, bike 112 miles, then finish with a 26.2-mile run. Evans knew some athletes raised money for charities with their participation. He decided he could do the same at this year's race to help his dad and other people with cancer.
"If my dad had the strength and courage to get through cancer, how hard is it for a healthy person to make it through an Ironman?" Evans said last week. "The race is just a way for me to get people's attention to raise money for the Lance Armstrong Foundation."
Evans is one of 43 Ironman Coeur d'Alene athletes participating in the Janus Charity Challenge. Janus Capital Group, based in Denver, Colo., manages assets for its customers. Its philanthropic work includes a grant-making foundation as well as the charity challenge, said Casey Cortese, Janus' director of community relations,
The challenge allows competitors at U.S. Ironman races to raise donations for any nonprofit organization recognized by the IRS. Janus will add at least $750 to an athlete's donation pot if the participant finishes Ironman and raised at least $750 before the start of the race. Janus adds $2,000 to $10,000 to the top five money-raising finishers.
In all, the charity challenge has pumped $8.7 million into charitable organizations in four years, Cortese said. Ironman Coeur d'Alene athletes raised $355,000 for charity in 2003, the first year of the race. Last year, 27 Ironman Coeur d'Alene triathletes raised $458,000 in the Janus Charity Challenge.
Four participants raising money through the Janus Charity Challenge in next month's Ironman Coeur d'Alene are from the Coeur d'Alene area, and two of those are raising money for Coeur d'Alene charities – the Coeur d'Alene Women's Center and the St. Vincent de Paul Society.
"I'm very lucky, blessed I can do an Ironman," said Brenda Smith, 38. She's raising money for the Women's Center, which helps battered women. "The Women's Center is so supportive. I'm thrilled they're letting me do this for them."
Smith, the director of human resources for North Idaho College, participated in Ironman Coeur d'Alene last year. It was her first Ironman triathlon, but she'd raced in shorter triathlons since 1997. A transplant from Boston, Smith said she fell in love with Coeur d'Alene and its community support.
A year of work in a battered women's shelter in Boston "was the toughest job I have had in my life, but the most rewarding," Smith said. "Being out there (in the race) for 17 hours doesn't compare to what those women go through every day. Every step I take is going to them."
Lindsay Rutherford, 26, chose to raise money for St. Vincent de Paul's in her first Ironman next month. Rutherford is a 1997 Lake City High graduate attending graduate school in Philadelphia. She worked at St. Vincent's in 1999 and 2000, coordinating volunteers who help the homeless and struggling.
"Any money you raise, you know the people at St. Vincent's will put it to good use," Rutherford said. "I've actually seen them help so many people and I've seen the people they help, and that's made a big difference in my life."
Randy Colee, 35, will race in Ironman Coeur d'Alene next month to raise money for the Breakfast Boys' Christmas Wish program, part of the KXLY Community Partners Foundation. Colee volunteered with the race in 2003 and was inspired to try it himself by one of Ironman's oldest competitors. Colee learned about the Janus Charity Challenge when he registered for the race and couldn't resist including it in his experience. He'd listened to the Breakfast Boys at Christmastime for years as they talked about listeners' donations buying gifts, food and gift certificates and paying bills for financially struggling families.
"I just love what they do," Colee said. "I believe everyone should do something to help other people out."
Doug Evans is clear that his top priority in this year's Ironman Coeur d'Alene is raising money for the Lance Armstrong Foundation. Armstrong is a cancer survivor and cycling phenomenon who's won the Tour de France an unparalleled six times. His foundation started in 1997 to raise money for cancer research, education, advocacy and after-treatment support.
Evans is focusing his competition on raising donations rather than on the race course. He and his wife organized a dinner and auction they're calling the Coeur d'Alene Cancer Challenge. They've already sold 180 tickets to the $40 event at the Coeur d'Alene Resort May 20 and hope to sell 160 more. Janus will add $10,000 to the donations of the Ironman Coeur d'Alene finisher who raises the most. Evans is boosting his chances with an auction that includes an Ironman Coeur d'Alene entry for next year, a Specialized mountain bike, a whitewater rafting package, entries to the Coeur d'Alene triathlon this year and sports equipment. For tickets, call (208) 665-9976.
Local journalism is essential.
Give directly to The Spokesman-Review's Northwest Passages community forums series -- which helps to offset the costs of several reporter and editor positions at the newspaper -- by using the easy options below. Gifts processed in this system are not tax deductible, but are predominately used to help meet the local financial requirements needed to receive national matching-grant funds.
Subscribe now to get breaking news alerts in your email inbox
Get breaking news delivered to your inbox as it happens.
---