Sports
Czech Republic takes home gold
Mon., May 16, 2005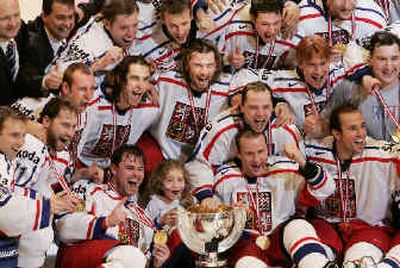 VIENNA, Austria – Martin Rucinsky made sure the Czech Republic wouldn't need overtime or a shootout to win the world hockey championship.
Rucinsky set up Vaclav Prospal's first-period goal, and scored one of his own in the third as the Czech Republic denied Canada its third straight title and won the world championship 3-0 Sunday.
"Scoring a goal in a world championship final is already fantastic, but winning is even better," Prospal said. "Canada was tough, but we were better."
Tomas Vokoun, named the tournament's best goalie, made 29 saves in earning the shutout. The Czechs (8-1) hadn't won the gold since 2001 when they captured their third straight. It is their fifth world championship since 1996.
"It was a very tough game, but we always believed in ourselves," forward Jaromir Jagr said. "It helped, of course, that we scored the opener, because then the Canadians had to attack.
"It was a very tactical game and our coach told us to remain calm, stay back and wait for our chances. I'm sure our fans have forgiven us now for not winning at home last year."
A year ago in Prague, the United States eliminated the Czechs from the quarterfinals with a shootout victory.
This one didn't come easy. The Czechs got revenge and beat the United States in a shootout to win their quarterfinal game on Thursday, and then eliminated Sweden – the runners-up the past two years – Saturday to win that semifinal matchup 3-2 in overtime.
Rucinsky gave the Czechs a 2-0 lead 3:14 into the third period, beating Canadian goalie Martin Brodeur with a slap shot to the glove side from the top of the left circle after a fast rush. Jagr, a five-time NHL scoring champion, set up the goal.
With his first world title, the 33-year-old Jagr became one of only 15 players to win a Stanley Cup ring and gold medals in the Olympics and world championships.
Prospal made it 1-0 when he knocked a rebound past Brodeur at 4:13 of the first after Rucinsky hit the post off a nice pass from Jagr.
Canada (6-2-1) pulled Brodeur for an extra attacker during a power play in the last minute, but it was too late. Josef Vasicek sealed the victory with an empty-net goal with 53 seconds remaining.
In a wide-open second period, Simon Gagne had two excellent scoring chances for Canada that were turned aside. Joe Thornton and Rick Nash, voted to the All-Tournament's team, finished 1-2 in the scoring race, but were held off the board Sunday.
"On any other given night we could have had them," Nash said. "We had our chances, but we didn't bury them. Vokoun played well."
Earlier in the day, Maxim Afinogenov had two goals and an assist to lead Russia to a 6-3 victory over Sweden in the bronze-medal game.
Local journalism is essential.
Give directly to The Spokesman-Review's Northwest Passages community forums series -- which helps to offset the costs of several reporter and editor positions at the newspaper -- by using the easy options below. Gifts processed in this system are not tax deductible, but are predominately used to help meet the local financial requirements needed to receive national matching-grant funds.
Subscribe to the sports newsletter
Get the day's top sports headlines and breaking news delivered to your inbox by subscribing here.
---