News > Nation/World
Hundreds flee Uzbekistan unrest
Mon., May 16, 2005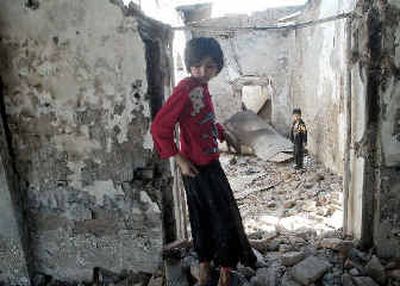 FERGANA, Uzbekistan – Eight Uzbek soldiers and three Islamic militants died in a clash near the Kyrgyz border Sunday and more than 500 Uzbeks fled to safety across the frontier, witnesses said, in spreading violence that further threatened stability in this Central Asian country, a key American ally and host to an important U.S. military outpost.
The explosions of pent-up anger have now hit at least two Uzbek border towns in the volatile Fergana Valley in eastern Uzbekistan. As many as 500 people reportedly were killed Friday in Andijan, Uzbekistan's fourth-largest city about 30 miles west of the Kyrgyz frontier, when government troops were called in to put down an uprising by alleged Islamic militants and citizens protesting dire economic conditions.
About 500 bodies were laid out in rows at an Andijan school, according to a respected doctor in the town, seeming to corroborate other witness accounts of hundreds killed in the fighting.
Relatives were arriving at Andijan's School No. 15 to identify the dead, said the doctor, who spoke by telephone on condition she not be named.
The doctor, who also said about 2,000 people were wounded, is widely regarded as knowledgeable about local affairs.
She did not say how she arrived at her estimate.
Security was tight in Andijan as stunned residents cleaned blood off streets guarded by troops and armored vehicles. One man said he saw the bodies of three people apparently killed by a soldier Sunday, two days after government forces put down the uprising.
The Uzbek Foreign Ministry on Sunday denied that government forces had opened fire on demonstrators. President Islam Karimov has said 10 government soldiers and "many more" protesters died in the Friday conflict and at least 100 people were wounded.
Since then the government has imposed a near-total news blackout on the region, keeping reporters away from scenes of violence.
Karimov, viewed as one of the most authoritarian leaders still in control of a former Soviet republic, cut his political teeth under the old communist system which brooked no civil disobedience.
Local journalism is essential.
Give directly to The Spokesman-Review's Northwest Passages community forums series -- which helps to offset the costs of several reporter and editor positions at the newspaper -- by using the easy options below. Gifts processed in this system are not tax deductible, but are predominately used to help meet the local financial requirements needed to receive national matching-grant funds.
Subscribe now to get breaking news alerts in your email inbox
Get breaking news delivered to your inbox as it happens.
---