Sports
Mariners take series from Sox
Mon., May 16, 2005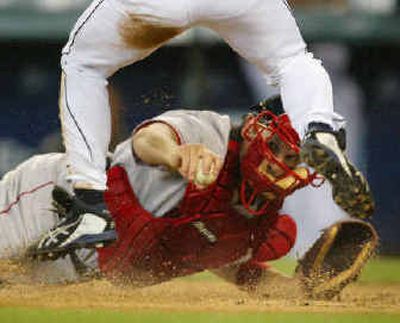 SEATTLE – Struggling Seattle catcher Miguel Olivo got a batting tip before Sunday's game from his friend, Boston's Kevin Millar.
Maybe Millar should have kept quiet.
Hitless in his previous 27 at-bats, Olivo had three hits, including his first homer of the season, and the Mariners overcame Manny Ramirez's 400th home run to beat the Red Sox 5-4.
Ramirez will get the headlines for becoming the 39th player in major league history to reach 400, but it was Olivo's solo shot in the fourth inning that proved to be the difference for Seattle.
"The difference was I went back to the position I hit in last year," Olivo said. "My friend, Millar, he told me."
Seattle won a series for the first time since taking 2 of 3 at Texas April 26-28, and handed the Red Sox their first series loss this month.
Olivo was hitting just .125 and had been splitting time with catcher Wiki Gonzalez. But Gonzalez was placed on the disabled list Sunday with a strained left hamstring, leaving Olivo as the only catcher with experience on Seattle's roster.
He responded with an infield single in the second inning that scored Bret Boone and sparked a four-run inning for Seattle. He added a double in the eighth.
In the fourth, Olivo hit a 3-1 pitch from Tim Wakefield (4-2) into the Boston bullpen in left field to give Seattle a 5-1 lead. His last hit had been April 27 at Texas.
"He stayed on the pitches and didn't pull off," Seattle manager Mike Hargrove said. "He hit pitches he should have hit."
Eddie Guardado allowed Johnny Damon's leadoff single in the ninth before getting his 10th save in 11 chances. He got Ramirez to fly out to Ichiro Suzuki in right to end the game.
"That was fun," Guardado said. "It was a little scary, but fun. I just tried to keep the ball down and stay ahead."
Ramirez's three-run shot came with two outs in the fifth and brought Boston within a run. It was his 10th of the season and the second in the series. He hit a 1-1 fastball from Seattle starter Gil Meche an estimated 404 feet into the seats in right-center field, scoring Mark Bellhorn and Damon.
"I'm going to put it on eBay and see how much I get," Ramirez joked. "Maybe $200?"
Ramirez is just the fifth to reach the mark in a Red Sox uniform. The others were Jimmie Foxx, Ted Williams, Carl Yastrzemski and Andre Dawson.
"I hope he hits another 400 … like in the next three years," Boston manager Terry Francona said. "I think he's excited. I do really think it meant something to him."
Outside of Ramirez's homer, Meche (3-2) was solid for Seattle, giving up four runs and seven hits in six innings. His only other mistake was David Ortiz's 10th homer, a solo shot in the third.
"I made too many pitches away to Manny," Meche said. "I located my fastball the first couple of innings and have learned my last couple of starts that when I overthrow is when I give up home runs."
Shigetoshi Hasegawa allowed two baserunners in the seventh, but got Millar to fly out to the warning track in left-center field to end the threat.
J.J. Putz worked a perfect eighth for Seattle, a day after giving up a grand slam to Trot Nixon.
After hitting nine home runs in its previous three games, Seattle manufactured runs to take the early lead. With one out in the second, Boone and Jeremy Reed singled. Olivo then hit a slow roller just past Wakefield that third baseman Bill Mueller could not handle, allowing Boone to score.
Willie Bloomquist doubled off the fence in right, scoring Reed. Suzuki's groundout scored Olivo, and Bloomquist scored on Randy Winn's double to right-center field.
Local journalism is essential.
Give directly to The Spokesman-Review's Northwest Passages community forums series -- which helps to offset the costs of several reporter and editor positions at the newspaper -- by using the easy options below. Gifts processed in this system are not tax deductible, but are predominately used to help meet the local financial requirements needed to receive national matching-grant funds.
Subscribe to the sports newsletter
Get the day's top sports headlines and breaking news delivered to your inbox by subscribing here.
---