News > Nation/World
Professor to face trial over alleged terrorism ties
Mon., May 16, 2005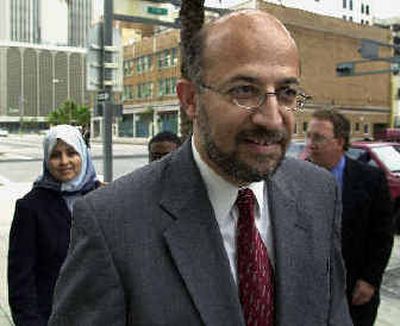 TAMPA, Fla. – Ten years ago, U.S. student Alisa Flatow boarded a bus to a Gaza Strip beach resort for a much-needed break from her studies.
At the Israeli settlement of Kfar Darom, a young man sat in a van loaded with explosives. As the bus approached, he steered his rolling bomb at it and slammed into the bus' side.
Eight people – seven Israelis and Flatow – died in the April 9, 1995, terrorist attack. Now her parents are looking for justice in Tampa, where a former computer science professor and three others are going on trial on charges they helped fund the terrorist group that carried out the bombing.
Jury selection begins today.
Sami Al-Arian, a University of South Florida professor and Palestinian rights activist, was secretly under investigation by FBI foreign agents at the time of the bombing. Al-Arian had established an Islamic academic think tank, a school, a mosque and a charity for Palestinian children – but authorities were questioning whether the true mission of Al-Arian's work was to finance terrorist attacks in Israel. Al-Arian, Sameeh Hammoudeh, Hatim Naji Fariz and Ghassan Zayed Ballut are accused of racketeering, conspiracy and providing material support to terrorists. Five other men have been indicted but are still at large.
Al-Arian alternately is viewed as a crusader for Palestinian rights who is being persecuted for his unpopular views and as a terrorist who hid behind a veil of legitimacy while financing attacks thousands of miles away.
Prosecutors say there is evidence of Al-Arian's involvement with attacks. The indictment alleges that in 1993, Al-Arian sent four wire transfers of nearly $2,000 each to relatives of four convicted Islamic Jihad terrorists convicted in the murder of three Israelis.
Al-Arian's attorneys question how a supposed terrorist financier gained access to the White House and met with Presidents Clinton and Bush.
Local journalism is essential.
Give directly to The Spokesman-Review's Northwest Passages community forums series -- which helps to offset the costs of several reporter and editor positions at the newspaper -- by using the easy options below. Gifts processed in this system are not tax deductible, but are predominately used to help meet the local financial requirements needed to receive national matching-grant funds.
Subscribe now to get breaking news alerts in your email inbox
Get breaking news delivered to your inbox as it happens.
---