Sports
Purdy's pretty round wraps up Byron Nelson
Mon., May 16, 2005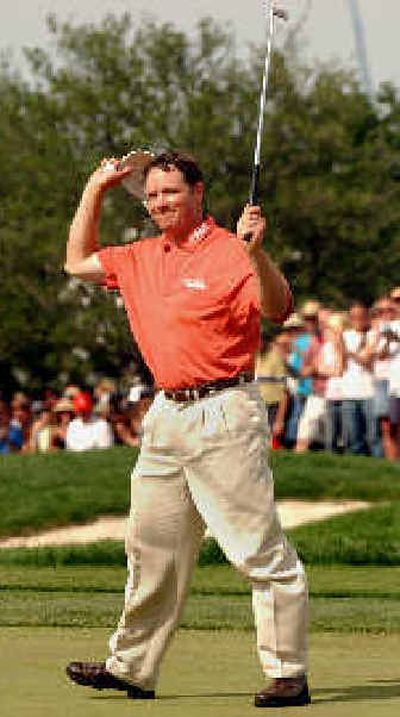 IRVING, Texas – Unless the talk was about the "Big 173" instead of the Big Five, no one had any reason to suspect Ted Purdy would be celebrating his first PGA Tour victory with tournament host Byron Nelson.
Purdy had never finished higher than Tiger Woods in any event since college. He was in awe of Vijay Singh and the rest of the world's five best players. He viewed his best results on tour as failures.
All that changed Sunday afternoon with a flawless round of golf. Purdy had a birdie putt on every hole, closed with a 5-under 65 and won the Byron Nelson Championship by one shot over Sean O'Hair.
"It's just euphoric," Purdy said. "Under the circumstances, it's the best round of golf I ever played. I guess on Sunday, to win a tournament, that's how you do it."
For all the hype over the Big Five playing together for only the third time this year, it came down to a 31-year-old who had toiled for six years on the Asian Tour and was trying to recover from the heartache of two runner-up finishes last year on the PGA Tour.
"I won on the PGA," said Purdy, who finished at 15-under 265. "That's been my dream my whole life."
Equally impressive was O'Hair, the 22-year-old rookie whose father treated him like a commodity and pushed him to turn pro at age 17, a year before he finished high school.
O'Hair, who started the day ahead by one, was within one shot of the lead until he hit into a bunker at No. 14 and failed to save par. He birdied two of the last three holes for a 68 and earned $669,600, assuring the Q-school grad his card for next year and showing that he has the game to achieve greater things.
"I played my guts out today," O'Hair said. "Now that I've got a taste of this, my feelings are, 'Let's go win a few tournaments.' I'm not going to put a bunch of pressure on myself after this week. I played great. I'm just going to work my butt off, and, hopefully, I'll be in this situation a lot more."
Purdy built a three-shot lead with a two-putt birdie on the 16th hole, too much ground for O'Hair to make up. His 65 matched the lowest final round by a winner at the Byron Nelson Championship since it moved to Las Colinas in 1986.
Vijay Singh finished strong as always, with an ace on 195-yard 17th hole with a 7-iron, and a 15-foot birdie putt on the final hole for a 65. He tied for third, going over $5 million for the third straight year.
"Vijay is playing unbelievable, but I beat him," Purdy said with a laugh.
He beat them all.
Woods was long gone, missing the cut for the first time in seven years and 142 events. So did Retief Goosen.
Singh needed to finish alone in third to replace Tiger Woods at No. 1 in the world, although they could swap positions the next two weeks when neither is playing.
Bob Tway (67) and Doug Barron (69) also tied for third, with each dropping a shot over the final two holes.
Ernie Els (No. 3) birdied four of his last five holes for a 66 to tie for 10th, while the other member of the Big Five still around on the weekend, Phil Mickelson (No. 4), shot a 67 and tied for 14th.
Champions Tour
Jim Thorpe and Morris Hatalsky parred the first hole of a playoff before play was suspended because of darkness in the Champions Tour's Blue Angels Classic at Milton, Fla. They are scheduled to resume play this morning.
Thorpe, coming off a victory two weeks ago in the FedEx Kinko's Classic in Lakeway, Texas, forced the playoff with a 10-foot birdie putt on the final hole of regulation.
Thorpe closed with a 3-under 67 and Hatalsky had a 66 to complete 54 holes at 16-under 194 on the Moors Golf Club course. Two rain delays – for a total of 4 hours, 18 minutes – left time for only one extra hole in near darkness.
Don Pooley (63), Fuzzy Zoeller (64), Peter Jacobsen (65) and Tom Jenkins (66) tied for third at 13 under. Craig Stadler, tied for third after a second-round 60, had a 70 to tie for ninth at 11 under.
British Masters
Denmark's Thomas Bjorn won the British Masters for his first PGA European Tour title since 2002, beating England's David Howell with a par on the second hole of a playoff at Meriden, England.
Bjorn, an eight-time winner on the European tour, closed with a 4-under 68 to match Howell and England's Brian Davis at 6-under 282 on the Forest of Arden course. Davis was eliminated on the first extra hole.
New Zealand's Michael Campbell, the third-round lead, shot a 73 to finish a stroke out of the playoff.
Local journalism is essential.
Give directly to The Spokesman-Review's Northwest Passages community forums series -- which helps to offset the costs of several reporter and editor positions at the newspaper -- by using the easy options below. Gifts processed in this system are not tax deductible, but are predominately used to help meet the local financial requirements needed to receive national matching-grant funds.
Subscribe to the sports newsletter
Get the day's top sports headlines and breaking news delivered to your inbox by subscribing here.
---