News > Nation/World
Rallies mark founding of Israel
Mon., May 16, 2005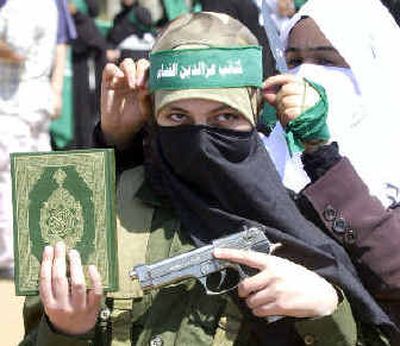 RAMALLAH, West Bank – With sirens and rallies, Palestinians on Sunday mournfully commemorated the anniversary of what they call "Al Nakba," or "the catastrophe" – the uprooting of hundreds of thousands of their people with the 1948 creation of the state of Israel.
While Israelis held barbecues, concerts and launched fireworks to celebrate the 57th anniversary of their independence Thursday – according to the date on the Hebrew calendar – Palestinians see the day very differently.
"Our people will never forget and the generations will never forget," Palestinian leader Mahmoud Abbas said in a speech aired on Palestine TV. "On that day, a crime was committed against a people, who were uprooted from their land and whose existence was destroyed and who were forced to flee to all areas of the world."
About 700,000 Palestinians lost their homes in the fighting that followed Israel's independence in 1948.
Their demand to return to their homes with their descendants – a total of 4 million people by U.N. estimates – represents one of the toughest issues in the Israeli-Palestinian conflict.
Israel's Cabinet on Sunday eased restrictions that have prevented West Bank Palestinians from joining their relatives in Israel but stopped short of lifting the ban altogether, officials said.
Israel imposed the ban in May 2002, at the height of Israeli-Palestinian fighting, as a "temporary" security measure.
The restrictions, which have been challenged in the Israeli Supreme Court, are believed to have kept hundreds, perhaps thousands, of Palestinians from uniting with spouses who are Arab citizens of Israel.
While Israeli officials have linked the measures to security concerns, the restrictions also cut at a deeper issue: fears that the country's Jewish majority could be threatened by granting Palestinians citizenship.
Under the new rules, Palestinian women older than 25 and men older than 35 will be eligible to join family in Israel and eventually receive citizenship.
Palestinian women tend to marry at a relatively young age, and keeping the limit at 25 would presumably deter many Palestinian women from seeking spouses inside Israel.
In violence late Sunday, Israeli soldiers shot and wounded two Palestinians near Ramallah.
The military said they were throwing firebombs at an Israeli vehicle.
In Palestinian cities and towns, traffic stopped and people stood straight and silent as sirens of mourning sounded at noon Sunday.
Local journalism is essential.
Give directly to The Spokesman-Review's Northwest Passages community forums series -- which helps to offset the costs of several reporter and editor positions at the newspaper -- by using the easy options below. Gifts processed in this system are not tax deductible, but are predominately used to help meet the local financial requirements needed to receive national matching-grant funds.
Subscribe now to get breaking news alerts in your email inbox
Get breaking news delivered to your inbox as it happens.
---