Sports
Staley still has dream of WNBA title
Mon., May 16, 2005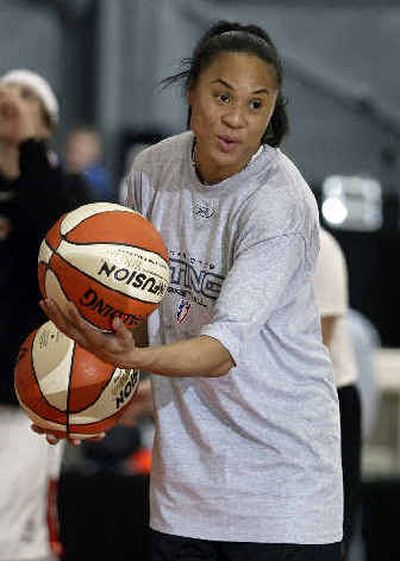 CHARLOTTE, N.C. – Dawn Staley slips out of her sneakers after a tough two-hour practice and gingerly walks off the court. Her joints ache and her knees have been sore for years. It's so bad, Staley walks as if her entire body is in pain.
She doesn't have to play basketball anymore. The three-time Olympian and two-time NCAA player of the year coaches a Temple program on the rise.
Staley has accomplished plenty in her career. But the one big thing missing – a WNBA title – is what has the 35-year-old point guard back with the Charlotte Sting for a seventh season.
"I'm still playing to put myself in a position to win a WNBA championship," she said. "As a player, I don't have very many days left because I am going to retire very soon. So it's here and now for me.
"I try to take it day by day, but I can honestly say if I win a WNBA championship, I am done."
There are other holes in Staley's resume: She never won an NCAA championship, despite leading Virginia to the Final Four three times. Staley played in just one title game, losing to Tennessee.
As coach at Temple, she's spent the past five years building that program and led the Owls into the second round of the NCAA Tournament this past season. She believes she still can get an NCAA title – from the sideline, with a whistle around her neck.
"I can't erase history and get an NCAA championship as a player," she said. "But I have put myself in position to get one as a coach, and hopefully it happens sooner rather than later. I don't have that time to get a WNBA championship."
The Sting recognize that so clearly that it can be argued that coach Trudi Lacey wants the title more for Staley than she does for the organization. As general manager, Lacey had an aggressive offseason in which she replaced most of Charlotte's aging veterans with quicker, younger players.
She lured free agent Sheri Sam and traded for point guard Helen Darling, who eventually will be Staley's replacement. In doing so, Lacey said goodbye to Andrea Stinson, who had started every game in Sting history, and Charlotte Smith-Taylor, one of the most popular players in state history.
But Lacey is adamant that she had no choice. When Staley returned from the Olympics last season, Charlotte was in a three-way tie for second place in the Eastern Conference with a legitimate shot at winning the division and making it back to the WNBA Finals (the Sting lost to Los Angeles in 2001).
Instead, the Sting collapsed down the stretch and failed to make the playoffs.
"Dawn came back from playing an intense international schedule, didn't take a single day off after getting back from the Olympics, and actually picked up her game," Lacey said. "No one else around her did. If the rest of the team had lifted their level of play to what Dawn's was, we would have been in the playoffs."
Lacey wasn't positive Staley would come back for another year. Staley retired from international competition after the Olympics, and Lacey knew it couldn't be long until Staley hung her sneakers up for good.
Instead, Staley signed a one-year deal to come back this season, with no promises of anything else.
"I think I can prepare my body to do another year after this one," Staley said. "I just can't see it after that. I really can't. It's physical, it's mental, it's enough is enough."
Getting ready for another season meant almost no time off for Staley. She works out with a personal trainer, and gets work in with her Temple team.
So Lacey gave her a week off at the start of training camp and told her to get some rest and relaxation before coming back to Charlotte.
Staley listened – sort of.
She headed to a Caribbean resort, but found herself unable to enjoy the sun and fun. Instead, she worked out three times a day: Sprints in the morning, weights in the afternoon, long sessions on the bicycle at night.
"I don't relax well," she said. "I can't just sit. That's not who I am."
Darling, in her fifth season in the league, is relishing her time playing behind Staley. She knows she's in Charlotte to eventually replace Staley in the backcourt, but for now is content to relieve Staley and give the Sting a change of pace when she's on the floor.
In doing so, she's soaking up everything she can from the 5-foot-6 Staley.
"Dawn is a great teacher, a great coach, a great motivator," Darling said. "She thinks she's bigger than what she is, and she plays with all of her heart and she is one of the greatest ever.
Local journalism is essential.
Give directly to The Spokesman-Review's Northwest Passages community forums series -- which helps to offset the costs of several reporter and editor positions at the newspaper -- by using the easy options below. Gifts processed in this system are not tax deductible, but are predominately used to help meet the local financial requirements needed to receive national matching-grant funds.
Subscribe to the sports newsletter
Get the day's top sports headlines and breaking news delivered to your inbox by subscribing here.
---