Sports
World tournament coming next spring
Mon., May 16, 2005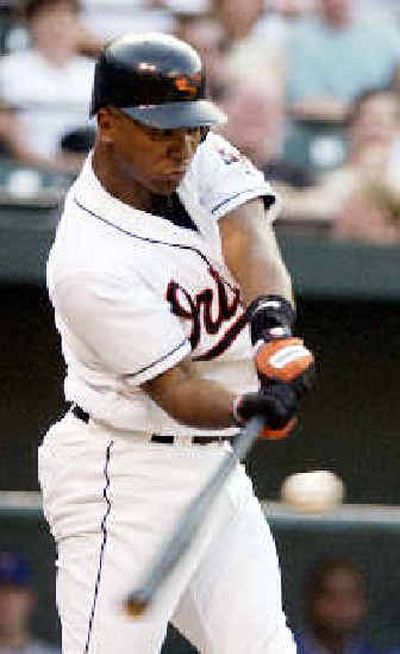 It seemed like just talk, a silly sports-bar argument that could never be resolved.
Especially not when Major League Baseball and its players union would have to agree to make it happen.
Yet, amazingly, the two sides came together without a scandal forcing solidarity. Last week, the warring factions, in conjunction with several international federations, announced the creation of the "World Baseball Classic," a 16-country tournament that will mirror soccer's World Cup and take place next March during spring training.
The best players from each country will face off to see whose homeland is superior. On the surface, it sounds great.
"It's sensational, and I am looking forward to it," said Minnesota first baseman Justin Morneau, who was supposed to represent Canada in the 2004 Olympics but was called up by the Twins before he could go to Athens.
"I would love it because I could represent my country," added Orioles third baseman Melvin Mora, a Venezuela native.
Of course, there are logistical nightmares that need to be worked out to make this a success. The tournament will run for about three weeks, until March 20. It will start out in three different countries, including the United States, so some major leaguers will have to deal with international travel.
Then there's the question of disrupting the players' spring routine, especially pitchers who use the preseason to build up arm strength and try new techniques. Suddenly, games will have meaning a month earlier than they normally would.
"I don't know how they can justify that everybody has to be ready a little earlier," said Orioles pitcher Erik Bedard, a Canadian who's not sure he would play if asked. "Because if you are trying to play on a team like that, you have to be prepared almost 100 percent."
Perhaps the biggest concern, though, is health. Although the Classic would enforce pitch counts and take other precautions, there's no guarantee the players would escape injury-free.
"It might generate some money, but now you might get guys sliding into each other, hurting each other. These guys get paid a lot of money to play ball here," Orioles reliever Steve Kline said.
"It's like a Pro Bowl game in football. Only bad things can happen."
It's risky, but also intriguing. And it will happen, since the union and the owners support it. So that starts another debate: Who wins? "This is going to be a real short tournament, so that means you have to pick the right players," said Minnesota's ace Johan Santana, a Venezuelan.
The United States has the edge when it comes to quantity; it's three- or four-deep in stars at every position. So should America start veterans such as Jason Varitek, Jeff Kent and Roger Clemens or young guys like Joe Mauer, Brian Roberts and Mark Prior? When it comes to quality, though, the Dominican Republic laps the field. They are so good that Aramis Ramirez can't make the starting lineup, even as a designated hitter. The middle of the Dominican order could include Miguel Tejada, Albert Pujols, Vladimir Guerrero and Manny Ramirez. Sammy Sosa might have to bat eighth. Thankfully, Dusty Baker wouldn't be eligible to manage that team.
In a short series, starting pitching is especially key and Venezuela could send out Santana, Carlos Zambrano, Kelvim Escobar and Freddy Garcia. And though Mexico, Canada and Puerto Rico aren't deep, they could get enough pitching to compete.
Japan is a wild card and so is Cuba, which might not be invited to play.
There are plenty of scenarios. Plenty of interesting subplots.
So what if it's a publicity stunt, and a potentially dangerous one at that? It should be good theater. And it's finally a bar argument that can be won.
Local journalism is essential.
Give directly to The Spokesman-Review's Northwest Passages community forums series -- which helps to offset the costs of several reporter and editor positions at the newspaper -- by using the easy options below. Gifts processed in this system are not tax deductible, but are predominately used to help meet the local financial requirements needed to receive national matching-grant funds.
Subscribe to the sports newsletter
Get the day's top sports headlines and breaking news delivered to your inbox by subscribing here.
---