News > Idaho
Local dancer to compete in talent championships
Sat., May 21, 2005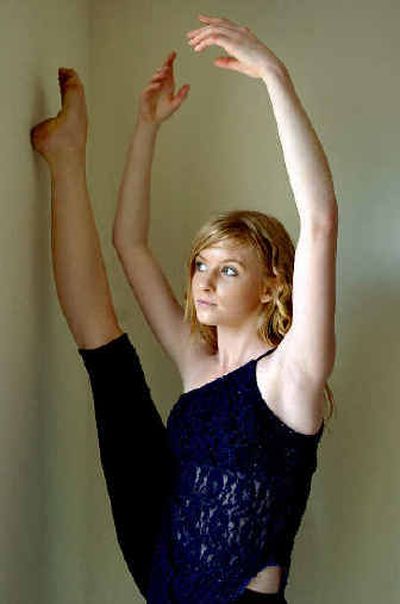 Home-schooled sophomore Alisha Harrold, 16, was inspired by the prima ballerinas she saw move gracefully across the stage as a young girl. Dancing since the age of 10, Alisha has a chance to show her poise and grace to more than 100 talent scouts this August at the World Championship of the Performing Arts in Hollywood. This is the ninth year of the championships.
Alisha has been training for the past three years at Expressions School of Dance, and prior to that at Suzie's Tap, Jazz, Etc. in Rathdrum. Her mother, Nalini Harrold said that her daughter has been dancing around the house constantly since she was little. Alisha prefers ballet and lyrical dance, a mix between ballet and jazz dance, but she is also working on hip-hop dance and jazz. She spends eight hours a week at the dance studio.
Alisha is one of approximately 30 people from the Northwest who will be competing against several hundred other contestants from 40 countries in this Olympics of talent. Sandy Clemons, the owner of Ain't It Good Productions, is the acting coach who is preparing Alisha and a few others for Hollywood.
"Alisha is an amazingly agile young lady," Clemons said. "I take the students and whatever talent they have, and take them through the process of how to do resumes and how to interview correctly." She said that the interviewing is critical.
Clemons found Alisha through an open audition. She said that Alisha is also "an incredible model," for photos. Although dance is her passion and strength, the competition involves several areas of talent, including acting.
For the acting, Alisha has to perform two monologues, one comedy and one serious. Her comedy routine is down pat. She will perform a Victorian-themed piece based on Oscar Wilde's "The Importance of Being Earnest," dressed in full Victorian regalia.
Alisha will perform ballet, jazz, lyrical and hip-hop dance routines and a karate demonstration at the competition. She has trained in karate for the past six years and is just shy of her brown belt. The desire to learn a method of self-defense and "mother motivation" got her interested in the sport.
For the modeling portion, Alisha will participate in the runway, swimwear, formal, spokesmodel and photo categories.
Since she has been accepted into the program, Alisha has had classes on diet, public speaking, styling, hair and more through Ain't It Good Productions. Clemons said that Alisha has come a long way, and that she photographs like a "porcelain doll."
Nalini will be accompanying her daughter in August for this once-in-a-lifetime opportunity. It will be Alisha's first time to California, and Nalini's first time to Hollywood.
Mother and daughter are $3,000 short of the expenses for the trip, approximately $8,000. If you would like to help her attend the World Championships of the Performing Arts, and possibly launch a huge star, contact Nalini Harrold at (208) 457-9202 in Post Falls.
Local journalism is essential.
Give directly to The Spokesman-Review's Northwest Passages community forums series -- which helps to offset the costs of several reporter and editor positions at the newspaper -- by using the easy options below. Gifts processed in this system are not tax deductible, but are predominately used to help meet the local financial requirements needed to receive national matching-grant funds.
Subscribe now to get breaking news alerts in your email inbox
Get breaking news delivered to your inbox as it happens.
---