Sports
Sparks' zone confuses Storm
Sun., May 22, 2005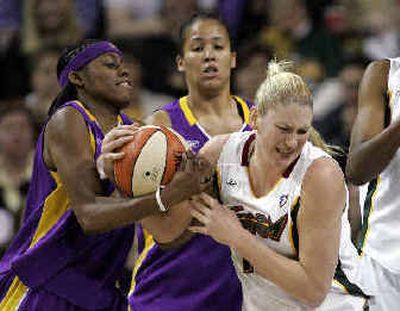 SEATTLE – Lisa Leslie had just picked up her third foul 9 minutes into the first half, and new Los Angeles Sparks coach Henry Bibby reluctantly went to a zone defense.
It turned out to be the perfect move.
Leslie stayed in the game and out of more foul trouble, scoring 23 points as the Sparks held the Seattle Storm to their worst shooting performance in team history in a 68-50 win on Saturday to open the WNBA season.
"I hadn't planned to play zone, but Lisa got in foul trouble and I had to go to it," Bibby said.
Seattle obliged the temptation of the zone, putting up a WNBA-record 32 3-point attempts and shooting 23.7 percent overall. Their previous low was 24.1 percent against Phoenix in 2001.
Seattle's Lauren Jackson saw her streak of 84 consecutive games scoring in double figures end. Jackson had eight points, and made just 3 of 15 shots, including 2 of 13 on 3-pointers.
She last failed to score in double figures against Sacramento on June 23, 2002.
"A lot has changed," said Jackson, one of six players that return from the 2004 championship roster. "We have one more week to improve some things that we need to work on. For me, that's shooting 3-pointers. Hopefully it'll come back."
Chamique Holdsclaw scored 16 points and had 14 rebounds in her first game with the Sparks. Holdsclaw was acquired in the off-season from Washington.
"Every time we needed another rebound, boom, Chamique was right there," Leslie said. "Overall, the two of us got a lot better as we built up our confidence. It's a great tandem with the two of us out there."
In a day meant for celebration, the Storm were presented with their championship rings and raised the first professional championship banner in the city since 1979.
Seattle started much as it ended last season when it beat Connecticut in Game 3 of the WNBA Finals. The Storm jumped to a 14-2 lead and led 19-6 with 8:51 left in the first half as Los Angeles made just four of its first 17 shots.
But the Sparks' zone began to have an effect. Seattle became a purely perimeter team on offense and a struggling Sparks offense found its shot.
"Things can be contagious, including bad shooting," said Seattle's Sue Bird. "We didn't attack the rim. We settled … we didn't play smart."
Holdsclaw scored her first points with 6:40 left in the half, and the Sparks closed the half on a 21-8 run to take a 29-27 lead. Seattle shot just 4 of 19 the final 11 minutes of the half.
"We rallied behind our defense and gave each other a lot of energy," Holdsclaw said. "We showed that we can handle a little bit of adversity."
Los Angeles continued to pull away early in the second half, outscoring Seattle 24-12 over the first 10 minutes. Los Angeles built the lead to 18 as Seattle missed 14 straight shots at one point.
The Storm finished 6 of 32 from 3-point range.
"We were frustrated when the 3-point shots didn't go," Storm coach Anne Donovan said, "and we were almost stubborn to keep taking the shots."
Local journalism is essential.
Give directly to The Spokesman-Review's Northwest Passages community forums series -- which helps to offset the costs of several reporter and editor positions at the newspaper -- by using the easy options below. Gifts processed in this system are not tax deductible, but are predominately used to help meet the local financial requirements needed to receive national matching-grant funds.
Subscribe to the sports newsletter
Get the day's top sports headlines and breaking news delivered to your inbox by subscribing here.
---