News > Spokane
Competition requires a leap of faith
Mon., May 23, 2005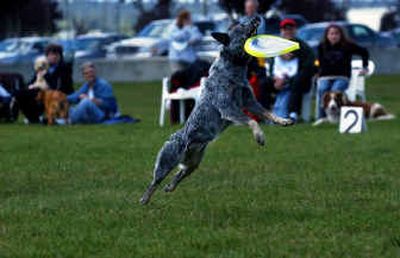 Every dog doesn't have his day. Ask Jeremy Sweatt, whose high-leaping border collie mix, Jake, didn't win a thing during Sunday's disc-catching contest at Spokane Pet Fest at the Spokane County Fair and Expo Center.
Last fall, Spokane resident Sweatt and Jake finished fourth in the world championship for this event, held in Atlanta. Owners get points for how many Frisbees their dog can catch and return within 60 seconds.
This time, Jake had a shaky second round, scoring only five points and keeping him out of the top finishers.
"I just wasn't giving him good throws," said Sweatt after the competition. "Plus, he needed to go to the bathroom. That distracted him."
Sweatt's second border collie mix, named Daisy, did much better. She finished second in the contest, behind a blue heeler named Sunny, owned by Spokane resident Dan Trusty.
Jake and Daisy were among 25 dogs competing in the outdoor disc-catching contest, hosted by Pet Fest, an annual expo for pet owners. Organizer Rachael Grafmiller estimated about 6,000 people attended Pet Fest on Saturday and Sunday.
Sunday's disc-catching contest alone drew more than 100 spectators. The audience, seated outdoors next to the 60-yard contest area, cheered when some dogs made leaping grabs of thrown Frisbees.
They laughed when some dogs ran past the thrown disc and kept going, heading for something worth sniffing at the far end of the course.
Nearby, several hundred other visitors strolled through an exhibit building to look at displays featuring pet products, cleaning aids and services aimed at pet owners.
Among them were Dan and Becky Manly, a Spokane couple who at last year's Pet Fest adopted Rex, a black Lab in need of a home. This year the Manlys came back to Pet Fest, along with their daughter, Rebecca, 8, to thank the Kootenai Humane Society for helping them find the right dog for their family.
"He'd been at the Humane Society for eight months," said Becky Manly. "But once he came home with us, he's been running the place ever since."
Bonnie Niles, a worker from the Kootenai Humane Society, helped two new owners adopt dogs on Saturday. On Sunday she had six more dogs waiting for homes. "What was great was the Manlys knew this was a big responsibility. They didn't take Rex on the spot, spontaneously," said Niles. "They waited and talked among themselves, went away and then decided to come back for the dog."
Grafmiller said she plans to continue producing the trade show annually. A portion of the net profits will be given to the Spokane Humane Society, she added, noting that she provided the animal shelter about $5,000 last year.
Until she reviews proceeds from this year's Pet Fest, Grafmiller said, she couldn't say if money will be available for the Humane Society.
Local journalism is essential.
Give directly to The Spokesman-Review's Northwest Passages community forums series -- which helps to offset the costs of several reporter and editor positions at the newspaper -- by using the easy options below. Gifts processed in this system are not tax deductible, but are predominately used to help meet the local financial requirements needed to receive national matching-grant funds.
Subscribe now to get breaking news alerts in your email inbox
Get breaking news delivered to your inbox as it happens.
---