News > Spokane
For real CSIs, drama is scarce
Wed., May 25, 2005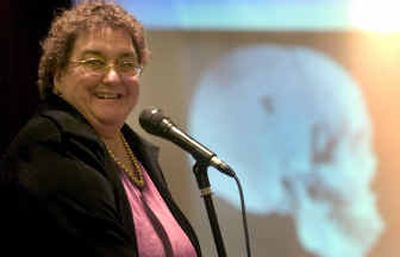 In the real world, crime scene investigation is anything but glamorous, two experts said Tuesday.
Sometimes, it's as grubby as picking through the contents of a vacuum cleaner bag, bit by filthy bit. But when that pays off – as it did in a 1999 rape in Canada – it breaks cases that would have remained unsolved 20 years ago.
"There are moments of glamour, but they are few and far between," said Peter Bilous, an associate professor at Eastern Washington University and a forensic expert who's worked more than 400 criminal cases.
Bilous spoke Tuesday at the Ridpath hotel as part of a program called "Eastern Edge: CSI Spokane," which presented information to the university and business community about the school's forensic science program.
Bilous and Sarah Keller, an EWU anthropology professor and consultant for local law enforcement agencies, discussed blood spatter, fractured vertebrae and dismemberment as more than 100 people munched on croissant sandwiches with alfalfa sprouts.
Police investigators have been using DNA testing to help solve crimes since 1985, and forensic technology has become a hot topic in pop culture lately, as well. Since the advent of the popular TV show "CSI: Crime Scene Investigation" and its spinoffs, more and more students are interested in the field, Bilous and Keller said.
EWU has the state's only forensic science program, and it will be home to the Washington State Patrol's new crime lab, which is being built on the Cheney campus.
Forensic science has been the backbone of a number of high-profile Spokane area cases, including the convictions of serial killer Robert Lee Yates and dismemberment murderer Stanley Pietrzak. Investigators also believe they've solved the 1982 killing of 15-year-old Linda Strait using DNA evidence to link the crime to Arbie Dean Williams, who is serving a prison term and whose DNA profile was filed as a part of his sentence.
Forensic science includes analyzing a wide array of information, in the field and in the lab, to piece together what happened at a crime scene. That ranges from analyzing paint chips, fibers and fingerprints, to typing DNA samples from blood, saliva or skin cells. It also includes Keller's specialty, forensic anthropology, which involves analyzing older bones and remains.
"This is a clarinet player – was a clarinet player," Keller said, indicating a projected photo of a jaw bone with "bony excrescences" that indicated the person's musical instrument of choice.
Bone clues come in surprising places. Keller showed slides of the remains of members of the Russian royal family, who were executed in 1918 and whose remains were found in the early 1990s. The tsar, Emperor Nicholas II, was identified in part by his lousy teeth – because it was known that he hated dentists.
Bilous worked for 11 years for the Royal Canadian Mounted Police, and that was when he came across the vacuum bag case. In that instance, investigators found 19 pieces of a contact lens that had been left by a victim, corroborating her story. Presented with the evidence, the suspect confessed.
In another case, Canadian investigators were stumped by a case of serial child sexual abuse – until they realized that one of the crimes had occurred at a particular apartment building. After getting blood tests from every male resident of the apartments, they hit a match and got a confession, Bilous said.
"It boiled down to the blood sample," he said. "There was no other evidence at all."
The technology of forensic science has, in some ways, outpaced resources available to apply it to criminal cases. Bilous said an estimated 500,000 criminal cases are awaiting DNA testing nationwide, and there will be a need for 10,000 new forensic scientists in the next decade.
"There is a significant backlog," he said. "The technology can be there, but you need the people, too."
People who watch "CSI" and other programs may get the wrong idea about how quickly such work is performed, said Lt. Scott Stephens, of the Spokane Police Department.
"Television shows like 'CSI' create unrealistic expectations for what we can do and how fast it can be done," he said. "People are asking about toxicology reports all the time. They always seem amazed that it takes six to eight weeks to get it back."
Local journalism is essential.
Give directly to The Spokesman-Review's Northwest Passages community forums series -- which helps to offset the costs of several reporter and editor positions at the newspaper -- by using the easy options below. Gifts processed in this system are not tax deductible, but are predominately used to help meet the local financial requirements needed to receive national matching-grant funds.
Subscribe to the Coronavirus newsletter
Get the day's latest Coronavirus news delivered to your inbox by subscribing to our newsletter.
---