News > Spokane
Students reach out to community
Thu., May 26, 2005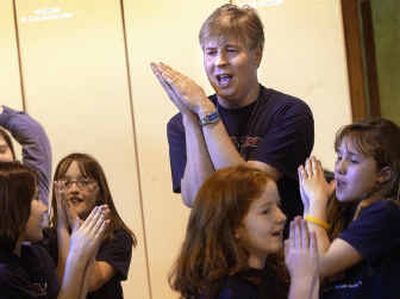 They were doing all the things kids love to do – dancing, singing and playing games. But on Wednesday, the students in the award-winning PRO Team were doing it to brighten the day of nearly 20 developmentally disabled adults at the West Central Community Center.
The PRO Team, which stands for Progress Reaches Out, includes students of all ages from Progress Elementary in the Central Valley School District who venture into the community to help others at least once a month.
Katie Salmon, 10, says she likes helping other people.
"I've been doing this since second grade," she said. "You get to help people you normally wouldn't meet in your entire life."
Her friend and fellow fifth-grader, 10-year-old Ashlynn Sellers, has been participating in PRO Team since she began attending Progress last year. "I've done almost every one," she said.
Some of their favorite visits have been to a retirement home, a Special Olympics competition and serving food at the Union Gospel Mission.
The program got its start from teacher Jeff Wallingford five years ago. The school principal asked him to be the ASB adviser and Wallingford said he would do it as long as he could start an outreach program. He wasn't even sure if the students would be interested.
"It really has been contagious," Wallingford said. At the beginning, he just went through the phone book and offered his students' help to various organizations. Now the group has more requests than it can deal with.
In addition to the monthly outreach projects, Wallingford and three students deliver a Meals on Wheels route every Friday. Other teachers cover his classroom whenever he's out with the PRO Team.
"It's just a wonderful team effort," he said. "The staff is super supportive."
It was one of those supportive teachers who nominated the PRO Team for the Chase Youth Award for community service this year. The group won, much to Wallingford's surprise.
"We'd never been nominated before," he said. "It was a wonderful honor for the kids."
The students at Wednesday's event were all girls except one, but Wallingford said plenty of boys usually help out. They all jumped in cheerfully, some playing Duck, Duck, Goose, while others approached two women sitting by themselves and were soon deep in a game of Chutes and Ladders.
When lunchtime arrived the students pulled out their sack lunches and sat chatting with their new friends. Before leaving they sang several silly camp songs, most of which required body movements. The kids held nothing back and a few of the disabled adults from the Learning Skills Center and Community Access Program enthusiastically followed along. Others laughed and clapped, smiles spreading across their faces.
No one wanted it to be over, but it soon was. Goodbyes were shared and last-minute hugs were offered and received. Several adults invited the students back again. "We love to be here," said Sellers. "Everybody's so welcoming."
Local journalism is essential.
Give directly to The Spokesman-Review's Northwest Passages community forums series -- which helps to offset the costs of several reporter and editor positions at the newspaper -- by using the easy options below. Gifts processed in this system are not tax deductible, but are predominately used to help meet the local financial requirements needed to receive national matching-grant funds.
Subscribe now to get breaking news alerts in your email inbox
Get breaking news delivered to your inbox as it happens.
---