Sports
It's all about the sport … wink, wink
Fri., May 27, 2005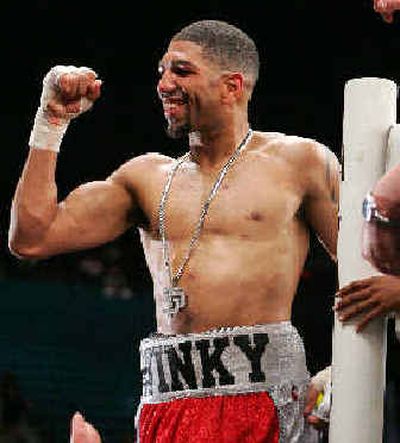 NEW YORK – It has been a long journey, but Winky Wright finally has arrived. He is getting recognition in all quarters since he completely dominated Felix (Tito) Trinidad over 12 rounds two weeks ago.
But recognition doesn't pay the mortgage, and Wright is now ready to move into boxing's high-rent district.
"It's about making fights that are best for me money-wise," Wright said during lunch on Thursday at the Palm Restaurant in midtown. "I'm trying to get paid. I'm on a straight money chase."
After lunch, Wright and his promoter, Gary Shaw, went to HBO, which has the biggest vault in the sport, to talk about Wright's value and what lies ahead for him.
Wright isn't a tough sell anymore, but he is in a tough position. After his mastery over Trinidad, Wright won't be able to sneak up on anyone anymore. There still are a few opponents who might be brave enough to climb into the ring against Wright - namely, IBF 154-pound champ Kassim Ouma and Fernando Vargas – but only one, undisputed champ Bernard Hopkins, would be able to ring up the cash register to Wright's satisfaction.
Wright and Shaw are holding out slim hope that Trinidad will come back and meet Wright in a contractually guaranteed rematch that could pay Wright more than $7 million. But the way that Wright dominated Trinidad, there isn't much of a market for the rematch. Trinidad will need major image rehab.
Wright completely dismissed Vargas as a possible future opponent. He still harbors resentment for comments Vargas made after their first match. Vargas won a majority decision, but disparaged Wright as an inferior opponent and blamed upheaval in his personal life for his poor performance in the bout.
"If HBO wants to come up and give me a lot of money, I might change my decision," Wright said. "But I don't want to see Vargas."
Hopkins makes the most sense as an opponent for Wright. Hopkins and Wright are the only men to have beaten Trinidad, and Wright is the No. 1 contender for the WBC middleweight title that Hopkins has. Hopkins must first get past Jermain Taylor on July 16 in Las Vegas.
"I'm willing to bet that if Hopkins wins, he'll run from Winky," Shaw said. "Everybody in the world knows how good Winky is. If they can escape him, they will.
"I hope if Bernard wins, he'll be man enough to fight Winky."
Wright said now is not the time to start putting pressure on Hopkins for a match. He said he will start calling Hopkins out if he gets past Taylor. Wright knows that it's not prudent to start counting the cash before it's in the till. He ruined major paydays for both Shane Mosley and Trinidad. Mosley was supposed to meet Oscar De La Hoya in a lucrative three-peat, but Wright beat Mosley twice.
Local journalism is essential.
Give directly to The Spokesman-Review's Northwest Passages community forums series -- which helps to offset the costs of several reporter and editor positions at the newspaper -- by using the easy options below. Gifts processed in this system are not tax deductible, but are predominately used to help meet the local financial requirements needed to receive national matching-grant funds.
Subscribe to the sports newsletter
Get the day's top sports headlines and breaking news delivered to your inbox by subscribing here.
---