Sports
Points leader Wheldon forgotten man at Indy
Sat., May 28, 2005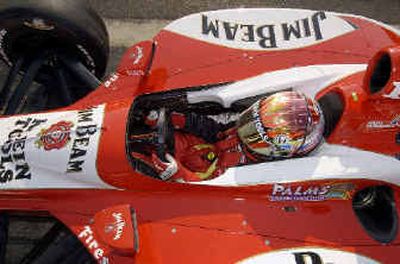 INDIANAPOLIS – Under normal circumstances, it would be Dan Wheldon besieged by media and fans this month at the Indianapolis Motor Speedway.
The 26-year-old Englishman with the movie star looks has been a dominant force in the Indy Racing League this season, winning three of the four races leading up to Sunday's Indianapolis 500. He is ahead of Andretti Green Racing teammate Tony Kanaan, the Indy pole winner and defending IRL champion, by 46 points in the season standings.
But the focus since practice began for the 89th running of the Indy classic has been on Danica Patrick, an attractive, dynamic and – most important – fast driver and the only woman in the 33-car starting field.
Patrick has been among the fastest drivers nearly every day, stirring a media swarm that has led Kanaan to joke: "Hey, I won the pole and all anybody wants to ask me is, 'What do you think about Danica?' "
At Friday's practice, the buzz around her only got louder.
While both Kanaan and Wheldon were fast, posting the second- and third-quickest laps, it was Patrick who held the spotlight with the day's fastest lap.
And, even though Wheldon has been fast at times this month, qualifying a so-so 16th has meant virtual anonymity.
Not that it's upset him.
"That did make it a little easier month," Wheldon said, grinning. "But I sometimes like being the underdog. You can go to bed early and get up late and nobody is bothering you."
As for Patrick being the center attention, Wheldon shrugged.
"She deserves it because she's got a great car and has been very fast," Wheldon said. "But you've got to remember that she is a rookie. When I was a rookie, I was running up front and feeling very confident and made one mistake and wound up crashing.
"It's a very long race and I don't think she's ever driven a race longer than 200 miles. But, having said that, I still think she's going to be good in the race."
Wheldon actually is more upset that Patrick has upstaged Kanaan.
"If I don't win the race, I definitely would like to see one of my teammates win it and Tony, well – the boy is just bloody fast," Wheldon said. "He won the pole and he should be the favorite to win the race, but I don't think he's gotten the attention because of Danica and Kenny Brack."
Brack, the 1999 Indy winner, has been the second-biggest story of the month. Coming back from a near-fatal crash in October 2003, Brack replaced injured defending race winner Buddy Rice last week as one of Patrick's teammates at Rahal Letterman Racing.
He posted the fastest qualifying speed of the month but will have to start 23rd since he did it on the second weekend of time trials.
"Again, you can't fault anyone for being interested in Kenny's situation," Wheldon said. "He's a great story and he's done an amazing job coming back from those injuries."
Indy has been a goal for Wheldon since he first got into racing.
After winning the season-opening event at Homestead, Wheldon immediately started talking about winning the IRL's showcase event.
"My passion is the Indianapolis 500," he said, his eyes gleaming. "The championship is important, but my goal is to drink the (winner's) milk at Indy."
Local journalism is essential.
Give directly to The Spokesman-Review's Northwest Passages community forums series -- which helps to offset the costs of several reporter and editor positions at the newspaper -- by using the easy options below. Gifts processed in this system are not tax deductible, but are predominately used to help meet the local financial requirements needed to receive national matching-grant funds.
Subscribe to the sports newsletter
Get the day's top sports headlines and breaking news delivered to your inbox by subscribing here.
---