News > Idaho
Both life, investigation carry on
Sun., May 29, 2005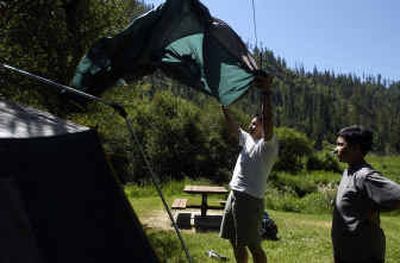 As tourists packed into Coeur d'Alene on Saturday, a half-empty Wolf Lodge Campground was enjoying a hint of calm after an unthinkable storm.
The family campground, eight miles east of the city, is adjacent to the Groene home, scene of a triple homicide nearly two weeks ago, a case in which two children remain missing.
"We're keeping our eyes open. We're always checking, but we have a sense they're not around here," said Susan Harrison, campground host.
After endless days of media attention, police interviews and access challenges, the campground is quiet enough that a visitor can hear a bird chirp.
"We only lost a few customers and those were with children. It just kind of went back to everyday business," Harrison said.
Families set up tents in 80-degree Memorial Day weekend heat while, miles away, 30 FBI specialists donned protective suits and spent a third grueling day digging through stench-laden trash at Kootenai County Fighting Creek Landfill.
The landfill search may continue for another week as detectives look for clothing, tools or other clues to the whereabouts of Shasta Groene, 8, and her brother Dylan Groene, 9, believed missing since May 16.
Police are hopeful the children are alive. Forensics determined that their blood was missing from the crime scene where their 13-year-old brother, Slade Groene, their mother, Brenda Groene, 40, and her boyfriend, Mark McKenzie, 37, were bound and bludgeoned to death.
As of Saturday afternoon, investigators had no new leads regarding a suspect or motive, said Capt. Ben Wolfinger of the Kootenai County Sheriff's Department.
Wolfinger praised members of the evidence recovery team who have spent eight-hour days in the sweltering garbage pit, only to head home, shower and return to the command station to track down tips.
"It's nice to know that's the kind of dedication we have in the whole incident," Wolfinger said.
Volunteers with law-enforcement backgrounds have stepped forward, bringing the total manpower of the operation to 70 investigators and 80 support people, he said.
While a plea asking people visiting area forests to look for evidence hasn't resulted in significant tips, Wolfinger asked travelers to look for the children at rest stops, gas stations and restaurants.
The National Center for Missing and Exploited Children is faxing posters, in batches of 10,000, with an updated photo of Dylan Groene and updated information for his sister.
Wolfinger said the faxes are targeting hotels, restaurants, businesses and agencies located primarily in the Western states. Canadian border patrols are also on the lookout.
"America's Most Wanted" also planned to air another segment about the missing kids on Saturday evening, which could generate additional information, Wolfinger said, adding that tips have come from as far away as the Florida Keys.
The Wolf Lodge Campground, with its creek, quaint cabins and American flag, was a Disney-like contrast to the brutality down the road.
Harrison and her husband, retirees and full-time RVers, arrived for their first stint as the hosts at the campground several days before the crime.
They were instantly entrenched in a murder investigation and news frenzy that attracted regional and national media, who set up newsgathering operations there.
"I never in my wildest imagination thought that coming to Coeur d'Alene Lake would put me in the middle of a triple homicide," Harrison said.
Tina McCracken of Butte was camping with a group of 16 family members, including children, who were visiting Silverwood Theme Park.
The crime was big news in Butte, but canceling campground reservations was never a consideration, McCracken said. "We didn't realize it was this close. Still, what can you say?"
A few sites away, Anne Taylor said she was in Boise visiting her son when she heard about the murders and missing children.
She and her husband, Dave Taylor, full-time RVers, are in town with their Tibetan terrier, Suki, to compete at the Coeur d'Alene Dog Fanciers show.
"I had no idea we were next to it, but Coeur d'Alene is so spread out," Anne Taylor said.
"You hear these things, but do you think, 'Oh my gosh! I'm changing my plans to go to Coeur d'Alene?' These things happen everywhere you go."
Val Ummel of Coeur d'Alene set up a tent with her 15-year-old daughter and two of her teenage friends. "I think my daughter said it will probably be the safest place to camp because of all the police."
Down the road, the Groene home was boarded up. Only a handful of investigators and a police car remained on the otherwise quiet scene.
A bucket of flowers sat beside the mailbox. Cards, teddy bears and balloons decorated a nearby chain-link fence, serving as both a memorial and a reminder of those lost, but not recovered.
Although some fear the trail is getting cold, Wolfinger said reward money has been upped to over $107,000 and detectives are working around the clock.
Many, he said, are parents with a particularly strong dedication to the cause.
"Every day we're looking for that one phone call, the one piece of evidence and that one tip" that leads to the children, he said. "But we don't have that yet."
Local journalism is essential.
Give directly to The Spokesman-Review's Northwest Passages community forums series -- which helps to offset the costs of several reporter and editor positions at the newspaper -- by using the easy options below. Gifts processed in this system are not tax deductible, but are predominately used to help meet the local financial requirements needed to receive national matching-grant funds.
Subscribe to the Coronavirus newsletter
Get the day's latest Coronavirus news delivered to your inbox by subscribing to our newsletter.
---