Sports
Mariners send struggling catcher Olivo to Tacoma
Tue., May 31, 2005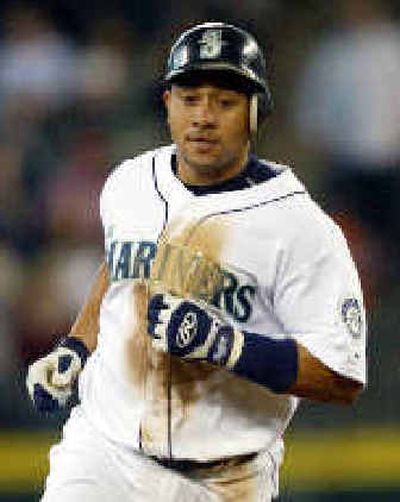 SEATTLE – The Seattle Mariners optioned struggling catcher Miguel Olivo to Triple-A Tacoma on Monday, and called up catcher Rene Rivera from Double-A San Antonio.
The 26-year-old Olivo, obtained last summer in a trade that sent right-hander Freddy Garcia to the Chicago White Sox, was hitting .145 with two home runs and 14 RBIs in 37 games.
"It's a move … to get Miguel back to even, at the very least," manager Mike Hargrove said. "We felt we couldn't give him the at-bats he needed to get his game at a consistent level."
The move makes 42-year-old Pat Borders, obtained 10 days ago in a cash trade with Milwaukee, into Seattle's top catcher. The former World Series MVP is hitting .231 with one homer and two RBIs in four games.
"Pat will catch every three out of four days to start with, maybe more and maybe less," Hargrove said.
Hargrove said Rivera, hitting .292 with two homers and 11 RBIs in San Antonio, will start tonight against Toronto.
The Mariners don't have longtime catcher Dan Wilson, who tore a knee ligament and is out for the season. Wiki Gonzalez is on the 15-day disabled list with a strained left hamstring. Hargrove doesn't think he can play within a week.
"I feel a lot better," Gonzalez said. "I don't know if I can play because I haven't (done) anything baseball related."
Hargrove expressed concern that Olivo's troubles at the plate were beginning to distract him from his catching.
"He'll tell you his confidence is fine, but I don't know of too many people hitting .140 for two months and their confidence would be fine," Hargrove said. "We all think Miguel is a good player. We've got to get him back."
Local journalism is essential.
Give directly to The Spokesman-Review's Northwest Passages community forums series -- which helps to offset the costs of several reporter and editor positions at the newspaper -- by using the easy options below. Gifts processed in this system are not tax deductible, but are predominately used to help meet the local financial requirements needed to receive national matching-grant funds.
Subscribe to the sports newsletter
Get the day's top sports headlines and breaking news delivered to your inbox by subscribing here.
---