News > Idaho
Longtime Lakeland teacher honored
Sat., Nov. 5, 2005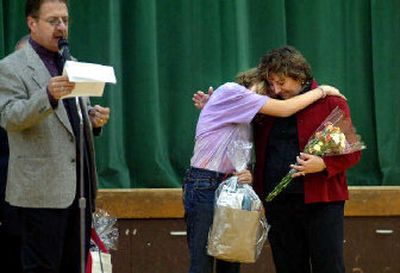 Lakeland Jr. High School social studies teacher Sherry Bell was honored as October's First Class School Champion in a surprise assembly Oct. 27. No stranger to accolades, Bell has been the Teacher of the Year for the Lakeland School District "four or five times" she said.
"We're here to recognize someone from the school who has done some special things for students," said Denis Cutter, CEO of Numerica Credit Union, which sponsors the First Class School Champion program.
Bell blew kisses to the kids as she walked across the floor to accept her awards. She was nominated by ninth-grade student Brittany Yount, who was a student of Bell's in the past school year. Yount explained in her nomination essay that Bell went out of her way to help her with the "stuff" she didn't understand.
"She was always there when I needed to talk to someone. She always has a positive attitude; she always tells you what you can improve on. She always encourages you to do your best, and is a great teacher," Brittany wrote. She also said that Bell helped her get ready for the ninth grade, her last year of junior high.
Bell has been a teacher in the Lakeland School District for 25 years. Her husband, Duncan Bell, a pharmacist at Medicine Man Pharmacy in Rathdrum, said that only two other teachers have been working in the Lakeland district longer than his wife.
Brittany's father, Dave Yount, said that his daughter likes to "write and ride." She has a quarter horse that she loves to ride.
Radio Host Dick Haugen was the emcee for the award presentation, with entertainment provided by Garfield the cat from Silverwood Theme Park. For her effort, Brittany received two passes to the park, $25, a gift bag and a chance to win an Apple iPod at the end of the school year.
Bell received $100 to be used at the school or in her department, along with a plaque, gift bag and a $25 gift certificate to the Outback Steakhouse.
Nomination forms for the First Class School Champion award can be found at www.numericacu.com.
Get your stamp collection started
A stamp-collecting class will be offered at the Coeur d'Alene Public Library for middle- and high school students beginning Tuesday at 4 p.m.
The class will be taught by Tom Wallenhaupt, who has 60 years of stamp-collecting experience and was co-founder of the Coeur d'Alene Stamp Club.
The class meets, Tuesdays and Fridays, at the library, 201 E. Harrison Ave. Participants will receive a packet of approximately 100 stamps to start their collection.
For more information or to register, call the library at 769-2315 or Wallenhaupt at 676-1383.
Kids raise money, collect coats
Winton Elementary School fourth-grade students raised $136 with a bake sale to benefit Habitat for Humanity in the wake of the Hurricane Katrina disaster. The check was presented to Habitat representative Mariann Bethke in an assembly Oct. 26.
Lake City High School's Youth Volunteers in Action collected 192 coats in their Coats for Kids drive. The food drive at LCHS will be held from Nov. 14 to 25.
Films celebrate American Indians
It's American Indian History Month, and North Idaho College will present Sherman Alexie's film "Smoke Signals" Tuesday at 6 p.m. and Friday at 4 p.m. in Molstead Library's Todd Lecture Hall. The film was shot on the Coeur d'Alene Indian Reservation,
The film series continues with "Skin," about a police investigator who seeks justice for himself, his family and his culture on a reservation plagued with unemployment, alcoholism and crime. The film will be shown Nov. 15 at 6 p.m. and Nov. 18 at 4 p.m. in Todd Lecture Hall.
The annual Henry SiJohn American Indian History Address will be at noon Nov. 29, also in Todd Lecture Hall. The presentation will be made by a member of the Coeur d'Alene Tribe.
Instructor's photos on display
The work of North Idaho College photography instructor Philip Corlis will be exhibited through the month at The Cottage Gallery, 1520 Sherman Ave.
The black-and-white photography exhibit will feature forests and streams, farmland and the Star Phoenix mine in Burke, Idaho. Corlis has taught photography at NIC for 23 years. For more information, call the gallery at 667-5660
Local journalism is essential.
Give directly to The Spokesman-Review's Northwest Passages community forums series -- which helps to offset the costs of several reporter and editor positions at the newspaper -- by using the easy options below. Gifts processed in this system are not tax deductible, but are predominately used to help meet the local financial requirements needed to receive national matching-grant funds.
Subscribe now to get breaking news alerts in your email inbox
Get breaking news delivered to your inbox as it happens.
---