Works by Christine Kimball featured at Kress Gallery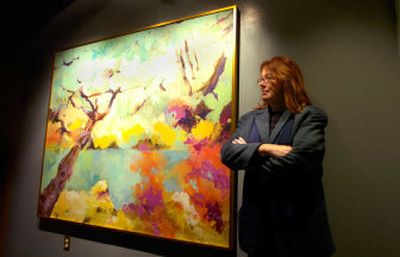 Christine Kimball has lived in her Valley home since 1971. One half of her home is dedicated to her painting; the rest of her home serves as living space, filled with unique and original creations.
Her pieces are large, even her smaller ones command attention. She is a painter through and through, her mediums of choice being oils and pastels. Even in high school, when she was told to have a backup plan and that art was just a hobby, she did not take the advice. She went on to earn a fine arts degree from Fort Wright College and hasn't looked back.
Kimball agrees with the saying "feast or famine" when it comes to an artist's living, and she has done many things to support her habit, including interior designing, faux finishing work and baking desserts.
Her passion for painting is followed closely by her passion to see the world. Her husband always said, "Pack as much into life as possible." Kimball's husband died young, and she keeps his spirit alive by living by his motto. Though she lives in the Spokane Valley, she has taken fellowships as far away as LaNapoule, France, where she was free to draw for four months.
Her paintings are also packed with life and depth. One such piece called "Unexpected Affinity" hangs at the Kress Gallery in River Park Square where she currently has a one-woman show that continues through November. The piece is 80 inches by 216 inches and is made up of seven canvas panels. It is abstract with earthy and liquid hues.
She incorporated lace in the piece to give it texture. "I bought the lace at an auction," she said, "It was ancient and some of the pieces were ruined by neglect." She could not bring herself to throw them away. They blend perfectly with the painting, not at all crafty as one might think, but curiously similar to coral or seaweed.
When gazing at "Unexpected Affinity" it is not difficult to feel a connection with the world or even the artist herself. "You can almost step into it and make a connection to others and the universe," she said. She has pieces in many corporate and private collections and has exhibited her work since 1977 in more than 30 galleries from Spokane to New York.
Her current show at the Kress Gallery took her months to prepare for. "Since it wasn't a commissioned group of work, I gave myself permission to do whatever I wanted," she said.
Ryan Hardesty, who runs the Art at Work program at the Northwest Museum of Arts and Culture, recommended her for the show, which took a lot of manpower and five hours to hang.
A young woman who happened into the space, stood in front of one piece for a long time, even muting her phone when it rang. "It reminds me of vacation," she said. "The ocean."
A simple connection, but a connection nonetheless.
---