News > Idaho
Playhouse opens 'It's a Wonderful Life' tonight
Sat., Nov. 26, 2005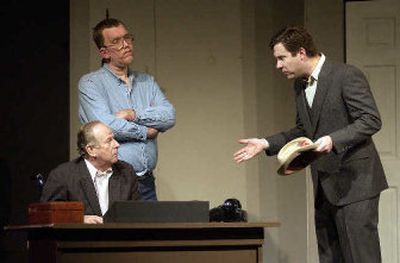 It's more common to see a play brought to the movie screen, but in the case of the classic holiday tale, "It's aWonderful Life," the play is an adaptation of the classic 1946 holiday film.
The Lake City Playhouse brings the story to stage starting tonight at 7:30 p.m. with an adaptation directed by Tom Nash that is faithful to the film.
"It's aWonderful Life" is one of Nash' sfavorite plays, partly because he is related to Jimmy Stewart, who played the lead role of George Bailey in the film. He never met Stewart, but they grew up 40 miles and a generation apart.
"I got a letter and an autographed photograph from him. For years I knew I was related to him. People kept saying I should write him, but I didn't want to just send it to Jimmy Stewart at Universal Studios," Nash said.
His mother had met Stewart before he was famous, as they were second or third cousins. Nash said his mother remembers Stewart as a tall, shy, gawky teenager.
Nash, who has been a regular in the Coeur d'Alene theater scene since 1969, has worked on and off with the Lake City Playhouse since 1989, when it was called the Coeur d'Alene Community Theater.
He grew up in western Pennsylvania, where his parents exposed him to live theatre.
"I have a very strong memory of seeing Ray Bolger in 'Charlie's Aunt' singing 'Once in Love With Amy,' and I couldn't have been more than 8 or 10 years old," Nash said. Bolger went on to play the scarecrow in "The Wizard of Oz."
Nash said his mother would take him to the theater in New York, and he eventually got the bug to act. He said he has directed about 100 shows all around the country and performed in as many.
"I've done a lot of musicals," Nash said. "I started with the Coeur d'Alene Summer Theatre their second season in 1969, and I worked with them off and on for about 10 seasons directing one or two musicals a year."
In the Lake City Playhouse production, George Bailey will be played by Mark Hodgson, from Spokane, who is appearing in his first Playhouse show. Denise Parks of Coeur d'Alene, also new to the Playhouse, will play Mary Bailey, George's wife.
Lake City Playhouse veteran Dan Gookin will play Clarence, the guardian angel who shows George what the world would have been like without him.
"He is one of the funniest, most creative actors I've ever worked with," Nash said. "I would work with Dan anytime, anywhere."
The evil Mr. Potter will be portrayed by Barrie MacConnell, also a seasoned actor. Alba Jeanne MacConnell, his wife, will play George Bailey's mother. Al Metz, who just started acting in his 70s, will play the bumbling Uncle Billy, with veteran Kathy Hatcher as Aunt Tilly. The little girl, ZuZu, who utters the most memorable line in the story, "Every time a bell rings an angel gets his wings," will be played by 6-year-old Katie Ann Schini.
"She is so good and so cute," Nash said. "She knows her lines, she knows her blocking, and she's a real professional at the age of 6."
There are a few scenes that couldn't be adapted to the stage, such as the moment on the bridge where George is going to jump off, but Clarence jumps instead to distract him. As a result, the two-hour movie has been shortened to a one-and-a-half hour play in two acts.
"The whole thing is very stylized," Nash said. "We don't try to change costumes every time we go back five years. It's really the sort of thing that asks the audience to use their imagination. The way the script is put together, the flashbacks are pretty obvious."
This is a great show for the entire family, with a very simple and warm message – that any man who has friends or family is richer than the richest man in town, and no matter how dark life may seem, with friends and family, life can be wonderful.
Local journalism is essential.
Give directly to The Spokesman-Review's Northwest Passages community forums series -- which helps to offset the costs of several reporter and editor positions at the newspaper -- by using the easy options below. Gifts processed in this system are not tax deductible, but are predominately used to help meet the local financial requirements needed to receive national matching-grant funds.
Subscribe now to get breaking news alerts in your email inbox
Get breaking news delivered to your inbox as it happens.
---