News > Idaho
Raising a statutory stink
Sun., Oct. 2, 2005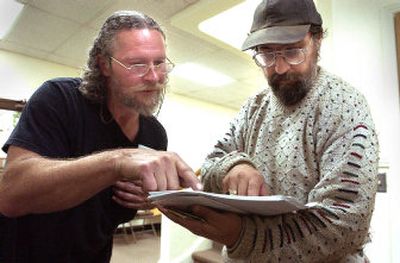 SANDPOINT – In the case of Steven David Aver vs. the legal system, a verdict has not yet been reached.
Aver, a 45-year-old LaClede resident, is using an obscure Idaho law to try and clean out the Bonner County Courthouse after a judge and courthouse staff ordered him to leave because he smelled.
The 1864 law gives citizens the right to bypass the prosecutor's office and file criminal charges, Aver said. He sought 18 felony and five misdemeanor charges against District Judge Steve Verby and other courthouse employees. The charges filed March 1 ranged from false imprisonment to aggravated assault to criminal conspiracy.
A lawyer associated with the case, who refused to speak on the record, said Aver's interpretation of the law appears to be correct. The lawyer said he expects the state Legislature to be asked to change the law during the next session.
The judge, bailiffs and court staff named in the charges don't want to talk about the case on the record. They say talking will only legitimize Aver's unlikely crusade. Privately, they admit that Aver has managed to tie up the legal system, and his charges are in fact causing a good deal of anxiety.
Last week, Judge Verby recused himself from 274 cases to avoid the appearance of a conflict of interest with the prosecutors who were investigating the charges. More than 200 of the cases were restored later after the county prosecutor declined to pursue the felony charges. The misdemeanor allegations are still pending.
One of the few things on which both sides agree is that Aver stinks. His friend and co-litigant Jerry Goforth said Aver suffers from "olfactory overload" from being around his six dogs so much – like a person living on a farm becomes oblivious to the smell of manure.
"He's just got dogs around him all the time," Goforth explained.
County employees sometimes smear Vicks VapoRub under their noses when Aver enters their offices. The bailiffs swing open fire doors after he leaves. Court officials said the stench got so bad earlier this year that they had to ask Aver to leave the county law library. Aver, who holds a law certificate from an American Indian tribe that is not federally recognized, said he was at the courthouse preparing a defense case for a friend.
Aver doesn't make much money as an amateur lawyer, but it's enough to keep himself housed in a small trailer near the local landfill and feed his dogs.
The issue really isn't about odor, Aver said. If the county had a problem with his hygiene, no one mentioned it during the previous decade, during which he made frequent appearances in the courthouse law library. Aver thinks he was kicked out because he was intimidating the established legal community – a group Aver refers to variously as a "good ol' boys club" and "rats."
"They want it to be about me smelling. It ain't about me smelling," Aver said. "It's about trying to bar me from doing my livelihood. My rights to be in a public facility have been taken away without the due process of law. … This is ongoing damage. I've definitely been damaged because of what's going on in the courthouse."
Aver's friend, Goforth, offered a simple explanation of why judges and lawyers don't like Aver: "They're tired of him being smarter than them. … He's whupped them in court every time."
Bonner County Prosecutor Phil Robinson said the trouble started because Aver's odor was becoming too strong to handle, but the county never formally barred him from the courthouse. Speaking hypothetically, Robinson said that if someone came into his office and either by behavior or general condition, "was so offensive as to make people physically ill or incapable of working, I think I have the right to have them removed."
When pressed, Robinson admitted – albeit in a lawyerly fashion – that there was nothing hypothetical about Aver's odor.
"It's been observable," Robinson said. "There are times when it is very observable."
Aver said a bailiff, on orders of Judge Verby, told him to leave the courthouse Jan. 27 because of his smell. Aver, who believed this a violation of his civil rights – Lady Justice is not only blind, but she also pinches her nose – refused to leave the courthouse. He had his friend immediately issue a subpoena requesting Aver's presence at the courthouse as a witness in another case.
The bailiff backed down, Aver said, and Verby never issued a written order barring him from the courthouse. The whole incident was recorded on tape by Goforth, who has carried video and tape recorders wherever he goes for the past two years to record perceived instances of injustice. Police officers, public officials and almost everyone in the legal community know they are being watched, Goforth said. "They tiptoe around on eggshells. I'm serious. I'm not lying or braggin'. They run. They run from me."
The audiotape of the bailiff ordering Aver to leave because of his smell is the backbone of the criminal cases brought by Goforth and Aver.
Goforth said he has never before had such clear proof of a crime. "It was like, whoa! It's like a nugget of gold fell out of the sky," Goforth recalled. "These guys must be eating a big bowl of stupid every morning."
A week after Aver said he was ordered to leave the courthouse, he returned and said he was kicked out again. And again the next day. Both times, however, Aver said he had bathed. "I was clean as a whistle. Couldn't get any cleaner than I was. Matter of fact, my clothes were washed three times."
Aver said he even has a sworn affidavit to prove he had showered and washed.
"The complaints Aver is making are totally frivolous," said Charles Hosack, the chief administrative judge for the state's First District, which includes Bonner, Kootenai and Boundary counties.
"It does distract the judicial system from focusing on its true purpose: to provide a working justice system. … That's really his point. He wants to show how much he can ball up the system."
Hosack signed County Prosecutor Robinson's motion to dismiss the felony charges, after Robinson said Aver and Goforth failed to establish probable cause.
As for the misdemeanor charges, Coeur d'Alene attorney Peter Erbland has been appointed by the city of Sandpoint to handle the cases. Erbland did not return a call seeking comment.
Now Aver is considering filing felony charges against Hosack. Aver said Hosack had no legal right to dismiss the cases because a magistrate in Lewiston had previously been assigned to the case.
"Not only should he be stripped of his robe, but he should be disbarred," Aver said.
Prosecutor Robinson is also breaking the law and might soon have to answer to criminal charges, too, Aver said. The law says a magistrate, not the prosecutor, is supposed to determine probable cause in criminal cases.
"It's another conspiracy within another conspiracy within another conspiracy," he said.
Aver said his interest in law started in 1985 when he was living in the San Francisco area. He spent 65 hours a week for three years studying at university law libraries. He now calls himself a legal secretary.
"When I can get the judges to perform, I usually win," Aver said in a telephone interview, declining to specify how many cases he has handled for friends. "I don't plea bargain."
As he spoke, dogs began howling. Aver excused himself for a moment. "Hey! Shut up! Quiet! Go lay down."
Aver's own record includes 19 separate charges in Bonner County, mostly animal nuisance complaints that were dismissed after lengthy court battles. He has one misdemeanor battery charge from 2003, which was dismissed. In the mid-'90s, he served a short jail sentence for refusing to obtain a driver's license on grounds that driving is a right, not a privilege.
On Friday, Aver and Goforth stood in a hallway at the courthouse explaining their cases. Neither man was denied entry, though courthouse employees walking past Aver appeared to give him a wide berth. Aver sometimes waved his arms as he described how he was preparing to file a "Title 42 civil rights suit under 28 dash 2267."
Goforth, a former carpenter from the Seattle area, said he has rarely felt so hopeful at his prospects of changing a system full of people "all absolutely drunk and intoxicated with power."
Aver's glasses were smudged and his sweater dirtied. Up close, he had a faint, unpleasant odor. A single, tiny braid hung off his salt-and-pepper beard.
All the talk of body odor is merely being used as a distraction by incompetent lawyers and judges, he said. "All the rats are coming out. I want to clean the whole house out."
Local journalism is essential.
Give directly to The Spokesman-Review's Northwest Passages community forums series -- which helps to offset the costs of several reporter and editor positions at the newspaper -- by using the easy options below. Gifts processed in this system are not tax deductible, but are predominately used to help meet the local financial requirements needed to receive national matching-grant funds.
Subscribe now to get breaking news alerts in your email inbox
Get breaking news delivered to your inbox as it happens.
---