News > Features
Aron Hutchison of Troop 99 attains Eagle rank
Mon., Oct. 3, 2005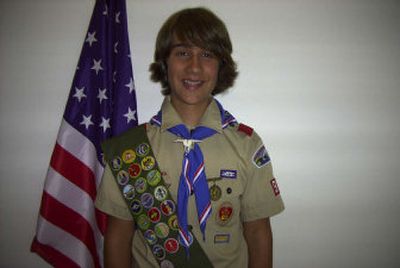 Aron Hutchison of Colbert has earned his Eagle Scout award, the highest award given in the Boy Scouts. For his project Hutchison build a fire pit, three benches and a sign for Camp Dart-Lo. Hutchison, a member of Troop 99, is the son of Ken and Valerie Hutchison of Colbert. He is a student at Mead High School.
• Air Force Reserve Staff Sgt. Tammi Armstrong recently graduated from the aeromedical evacuation technician course at Brooks City Base in San Antonio. Armstrong is a flight medical technician assigned to the 349th Aeromedical Evacuation Squadron at Travis Air Force Base in California. She is the daughter of Paula McKee of Spokane.
• Three area residents recently completed basic training at the Air Force Academy in Colorado Springs. Cadet Kevin Maver, a 2005 graduate of Colville High School, is the son of Jeff and Debbie Maver of Kettle Falls, Wash.
Cadet Joseph Migliuri, a 2003 graduate of Gonzaga Prep, is the son of Gary Migliuri of Spokane and Jennifer Migliuri of Seattle.
Cadet Kevin Mulligan, a 2005 graduate of Jenkins High School in Chewelah, Wash., is the son of Kevin and Cyndi Mulligan of Valley, Wash.
• Four students at the Oaks Classical Christian Academy have been named Commended Students in the 2006 National Merit Scholarship Program. The awards are given to students who placed among the top 5 percent of the students who entered the competition.
The students include: Margaret Ansett, Matt Belisle, Kennedy-Anne Catton and Brittany Tenold.
• Three area residents recently graduated from basic training at Fort Jackson, S.C.
Army Pvt. Kody Domina, a 2005 graduate of Ritzville High School, is the son of Joanne Domina of Ritzville, Wash.
Army National Guard Pvt. Luke Ahmann, the son of Stephen and Laurie Ahmann of Warden, Wash., is a 2005 graduate of Warden High School.
Army Reserve Pvt. Bettina Jordalen is the daughter of Camille Jordalen of Chattaroy.
• Dean Chuang recently graduated from the Army Reserve Officers' Training Corps leader development and assessment course at Fort Lewis. Chuang, currently a student at Gonzaga University, is the son of Charles and Rosaline Chuang of Tumwater, Wash.
• Two area residents recently graduated from basic training at Fort Sill in Oklahoma.
Army Reserve Pvt. Nicholas Adams is the son of Doreen Stone of Spokane.
Army National Guard Pvt. John Deaver is the son of Ivan Deaver of Washougal, Wash., and Ruth Deaver of Colville.
•The following students have been named to the summer-quarter honor roll at ITT Technical Institute:
3.8 grade-point average or better: Eric Alexander, Steven Alexenko, David Boice, Jeff Bowland, Jesse Bronson, Uriah Brosnan, Jason Brownfield, Robert Calvert, Kim Cannon, Bruce Caro, Roger Carpentier, Jarrod Cave, Tom Cobb, Jared Coleman, Jason Coleman, Tim Cook, Crystal-Marie Corkery, Michael Wolf Cowart, Steven Cox, Jason Crosen, Jason Dailey, Channon Dalton, Glen Davis, Johnathan Day, Courtney Durham, Jeff Flores, Roger Foley, Chad Frew, Tom Gable, Robert Gangwish, James Glaze, Trista Gregory, Melissa Grenfell, Nina Grishin, Tanya Gruell, Paul Gulliford, Marty Hafer, Cheryl Hanna, Cheryl Holland, Scott Howard, Justin Howell, Kevin Jacobson, Mediha J. Tannan, Kathleen Jones, Shauna Knerr, James Kusler, Adam Lambert, Conan Lane, Mary Lumpkins, William Maahs, Troy Martz, Satin McCarty, Kristopher McDougall, James McElwain, Tamea Mendez, Jason Neiderhiser, Brian Olson, Chris Olson, Cason Parsons, Dana Perkins, Daniel Petri, Stephen Phillips, Arjenis Quintero, Herman Ramos, Eareckson Sanders, Sunshine Self, Jesse Shelley, Robert Shepherd, Timothy Slater, Ben Stallings, Isimeli Vakaloloma, Christopher Wafstet, Scott Waldron, Thomas Waller, Jeffrey Watilo, Nathan Wells, Justin Wendt, Michael West.
3.5-3.79: William Aleson, Jay Allen, Amanda Bernhart, Scott Bisson, Victor Brown, William Brownell, Christopher Buchmann, Allen Campbell, Nicholas Carson, John Cleveland, Timothy Cook, Nathaniel Cooper, Joseph Cushman, Nathaniel Didier, Desiree Dittmar, Anthony Duran, John Ferrini, Alicia Garcia, Noah Gomes, Andrew Gomez, Matthew Greene, Christopher Hopper, Charles Hubbard, Cam Ireland, Elizabeth Johnson, William Jorgensen, Patricia King, John Kortus, Christopher Lacey, Christopher Lantto, Robert Laycock, Aaron Lee, Jeffrey Lindholm, Marcus Lindholm, Tyler Lucas, Bobby Maddy, Timothy McCalmant, Leigh McCombs, Tonya McNamee, Nicholas Moll, Joshua Monks, Stephan Moorhead, James Nielsen, Douglas Parker, Kenneth Perkins, Steven Perry, Thomas Pope, Kelly Rambo, Jess Rossworn, Adam Scott, Stephen Silva, John Taitingfong, Brian Taylor, Candace Taylor, Eric Taylor, Victoria Thompson, Harry Tompkins, Len Walters, Trey Watson, Ben Ziegler.
Local journalism is essential.
Give directly to The Spokesman-Review's Northwest Passages community forums series -- which helps to offset the costs of several reporter and editor positions at the newspaper -- by using the easy options below. Gifts processed in this system are not tax deductible, but are predominately used to help meet the local financial requirements needed to receive national matching-grant funds.
Subscribe now to get breaking news alerts in your email inbox
Get breaking news delivered to your inbox as it happens.
---