Sports
Eagles rally from 18 down to beat Chiefs
Mon., Oct. 3, 2005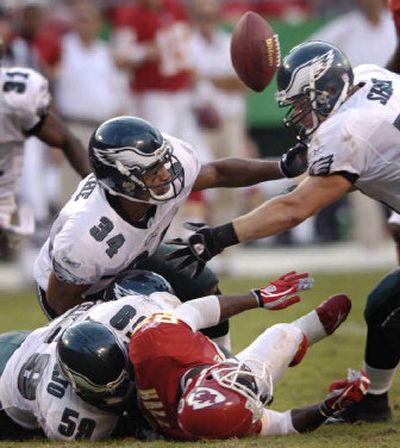 KANSAS CITY, Mo. – The Philadelphia Eagles didn't win a championship when they came from 18 points down to beat the Kansas City Chiefs 37-31 Sunday, but they knew it was a championship performance.
Down 17-0 in the first 17 minutes, they finally scored on cornerback Sheldon Brown's interception return – only to miss the extra point and watch Dante Hall return the ensuing kickoff 96 yards for a 24-6 lead.
"Everything that could possibly happen happened to us," quarterback Donovan McNabb said. "The clock even went out. We fumbled the ball on a kickoff return. But going in at halftime, you never would have thought we were down."
Ignoring his pain, McNabb hit 21 of 30 passes for 240 yards and two touchdowns in the second half. The Eagles scored 31 unanswered points, starting with McNabb's touchdown pass to Terrell Owens with 1 minute 14 seconds left in the first half.
The Chiefs' defense must have believed McNabb and Owens were still feuding because they left Owens open so much he caught 11 passes for 171 yards, his best game as an Eagle.
McNabb finished with 369 yards passing, a franchise-record third straight 300-yard game despite a series of injuries including a bruised chest, bruised shin and a sports hernia – a painful strained abdomen.
How painful?
"It seems at any point, someone is stabbing you," said Brown, who played through a similar injury two years ago. With Brown's two interceptions Sunday and McNabb's three touchdown passes, the sports hernia may soon become an injury of choice.
"He's a tough kid, and the team feeds off that," Eagles coach Andy Reid said of McNabb.
Chiefs coach Dick Vermeil, whose team was fired up after an embarrassing 30-10 loss Monday night in Denver, was enjoying the notorious "sea of red" home-field advantage until Jevon Kearse forced a fumble by Larry Johnson at midfield that set up McNabb's momentum-switching touchdown pass to Owens.
"You can see why they were in the Super Bowl last year," Vermeil said. "We could play with them for a long time but not long enough to beat them."
Even though the Chiefs had an 11-point halftime lead, the Eagles were upbeat.
"They won the first half. Congratulations," Kearse said.
Said Brown: "When we went in at halftime, we felt they started doubting themselves. This is a championship team. If we can pull them out like this, we can accomplish big things this year."
Local journalism is essential.
Give directly to The Spokesman-Review's Northwest Passages community forums series -- which helps to offset the costs of several reporter and editor positions at the newspaper -- by using the easy options below. Gifts processed in this system are not tax deductible, but are predominately used to help meet the local financial requirements needed to receive national matching-grant funds.
Subscribe to the sports newsletter
Get the day's top sports headlines and breaking news delivered to your inbox by subscribing here.
---