News > Nation/World
Jakarta placed on high alert
Mon., Oct. 3, 2005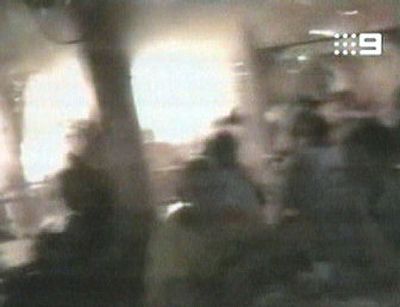 BALI, Indonesia – Police raised the alert level for Indonesia's capital and the president warned of more attacks Sunday as a chilling video shot the day before showed a suspected bomber clutching a backpack and strolling past diners moments before one of three suicide bombings killed 26 people on Bali.
The near-simultaneous bombings on the resort island also injured 101 people, including six Americans.
The attacks apparently were planned by Southeast Asia's two most-wanted men, who are believed to be connected to an al-Qaida-linked group, said Maj. Gen. Ansyaad Mbai, a top Indonesian anti-terror official.
The alleged masterminds of the Bali attacks were believed to be Azahari bin Husin and Noordin Mohamed Top, both Malaysians who fled to Indonesia after a crackdown on militants following the Sept. 11 attacks, officials said.
The masterminds were not among the suspected bombers, whose remains were found at the scenes, officials said. All three bombers were believed to be wearing belts of explosives, police said.
"All that is left is their head and feet," Mbai said. "By the evidence we can conclude the bombers were carrying the explosives around their waists."
President Susilo Bambang Yudhoyono warned that terrorists could be planning more strikes in the world's most populous Muslim nation as Jakarta's police chief put the capital on top alert, with two-thirds of its police force on standby.
There were no claims of responsibility for Saturday night's coordinated attacks on two packed seafood cafes in the Jimbaran beach resort and the Raja Cafe noodle and steakhouse in the bustling tourist center of Kuta.
Video footage shot by a vacationer at the three-story Raja Cafe captured a suspected bomber in a black T-shirt walking past foreign and local tourists eating dinner, sipping drinks and chatting at candlelit tables.
The man clutches his backpack, adjusts it slightly, then walks out of view. Moments later there is an explosion from his direction, followed by gray smoke and terrified screams. Police said the video, obtained by Associated Press Television News, was part of the investigation.
Local journalism is essential.
Give directly to The Spokesman-Review's Northwest Passages community forums series -- which helps to offset the costs of several reporter and editor positions at the newspaper -- by using the easy options below. Gifts processed in this system are not tax deductible, but are predominately used to help meet the local financial requirements needed to receive national matching-grant funds.
Subscribe now to get breaking news alerts in your email inbox
Get breaking news delivered to your inbox as it happens.
---