Sports
Jarrett avoids crashes to win
Mon., Oct. 3, 2005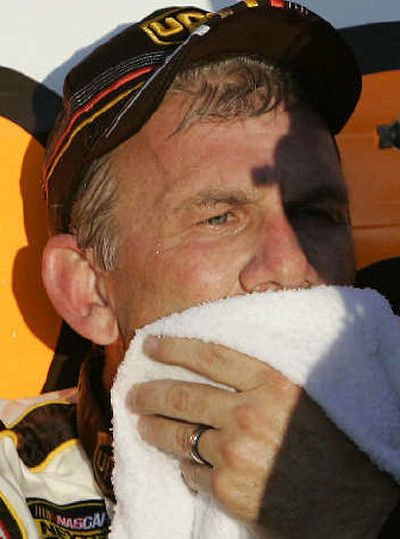 TALLADEGA, Ala. – Dale Jarrett's voice was hoarse and choked with emotion. He had just won a frantic shootout to end a 98-race drought and steal the spotlight from NASCAR's championship drivers.
Jarrett, a hardened veteran, could hardly believe what had happened Sunday during a crash-filled race at Talladega Superspeedway that shuffled the points standings and moved Tony Stewart back on top of the Nextel Cup leaderboard.
"When you get to this point of your career, you're not exactly sure when that last victory is going to be there so you learn to cherish each one," Jarrett said.
Jarrett, an also-ran most of the race, used a three-wide pass to challenge Stewart for the lead on the final lap of a three-lap overtime shootout, then passed Stewart on the backstretch in the UAW-Ford 500 for his first victory since 2003 at the now-defunct North Carolina Speedway.
"Everybody was talking about the top 10 cars in the Chase," said crew chief Todd Parrott, "and the old faithful one here (Jarrett) kind of hanging around where he needed to hang around and to be around at the end and then to make the move that he did is pretty special."
Kyle Petty spun to bring out a caution before the leaders crossed the finish line, freezing the field. NASCAR then had to review tape to establish a final finishing order.
The final decision had Stewart second and in the points lead after the third of 10 Chase for the championship races.
"The big picture is what we were worried about today," Stewart said. "Even if we finished 10th and gained points, that was the big thing. I wish we could have won it, but if we couldn't, I was glad to see DJ do it."
Matt Kenseth finished third and Ryan Newman was fourth. Stewart holds a four-point advantage over Newman after a race that shuffled the Chase standings.
Meanwhile, Jimmie Johnson's reputation and championship hopes were damaged after he was blamed for causing an early accident. Johnson, who started the day as the points leader, was involved in two accidents and dropped to fourth in the standings.
At least five Chase drivers suffered some sort of accident-related damage and Johnson's track record at Talladega had taken another huge hit – this time for a wreck he was involved in 20 laps into the race.
It was here that Johnson started a 25-car accident in April that led Dale Earnhardt Jr. to call him an "idiot" and start a rash of backlash against his perceived aggressive driving.
This time, Johnson ran into the back of race-leader Elliott Sadler's car, igniting a frightening eight-car accident that sent Michael Waltrip flipping down the track.
The drivers involved widely blamed Johnson for the accident.
"I'm really upset at Jimmie," Sadler snapped. "I guess he's trying to keep his streak alive – he caused a big wreck here last year and he caused a big one again this year. Maybe that's his way of racing here at Talladega … try to get rid of everybody so he can win the race."
But Johnson wasn't positive he was at fault. He believed he was pushed into Sadler when Earnhardt ran into the back of Johnson.
"It's real easy to sit on your couch and point fingers and say, 'So-and-so did something wrong,' " Johnson said. "But until you are out there in these cars, at these speeds, and seeing all the near-misses and what is really going on, it is not worth forming an opinion."
Local journalism is essential.
Give directly to The Spokesman-Review's Northwest Passages community forums series -- which helps to offset the costs of several reporter and editor positions at the newspaper -- by using the easy options below. Gifts processed in this system are not tax deductible, but are predominately used to help meet the local financial requirements needed to receive national matching-grant funds.
Subscribe to the sports newsletter
Get the day's top sports headlines and breaking news delivered to your inbox by subscribing here.
---