News > Features
Little bit frilly, little bit silly – yup, that's our Ms. Tilly
Mon., Oct. 3, 2005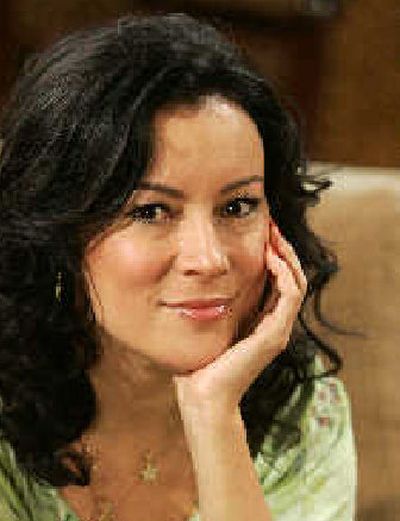 Jennifer Tilly's in the pink.
"I'm wearing an outfit that looks just like a cupcake … a pink frothy blouse, low-cut … everything a little inappropriately girlie … pink, pink, lot of pink," says Tilly, gleefully describing how her character, Crystal, will be dressed in an upcoming scene on the new CBS sitcom "Out of Practice."
Crystal is the receptionist for Dr. Stewart Barnes, a gastroenterologist played by Henry Winkler. She's also his love interest, an attraction enhanced by her breast implants.
Stewart's son Oliver (Ty Burrell) is the plastic surgeon who performed the surgery. Ex-wife Lydia (Stockard Channing) is a cardiologist. Son Ben (Christopher Gorham), is a relationship counselor, and daughter Regina (Paula Marshall) is an emergency room medic.
The Barnes family is very conflicted, but very smart. Crystal isn't family and isn't smart, which suits Tilly just fine.
"A lot of people have a lot of clamor going on, a lot of worrying emotions, and a lot of information," she says.
"People like Crystal are more single-cell people. When they are happy, they are happy. When they are sad, they are sad. You don't have to wonder, 'What's going on with Crystal?' You can tell. It's sort of refreshing."
Tilly, who hasn't had a regular part in a TV series since the short-lived "Key West" in 1993, is a veteran of offbeat movies. She was nominated for an Oscar in 1995 for portraying a bad actress in Woody Allen's "Bullets Over Broadway," and soon will be seen as an aging rock groupie in Terry Gilliam's "Tideland."
"I had to wear a fat suit, and they put all sorts of sores and pustules on my body," she says. "It was so much fun."
But at 47, she's no longer driven by an obsession to become a "huge movie star."
"You get to a certain age and you start to rethink your life and rethink your priorities," Tilly says.
"When I was younger, you would go on a set and you would have affairs and you'd drink, and it was just like summer camp. When you get older it's like, 'Uh, I'm in another hotel room, in another town I really don't want to be in.' "
Another motivation for taking the "Out of Practice" role, Tilly says, was to remind people that she is first and foremost an actress – not just an eye-catching celebrity with a distinctive voice and exceptional skill at cards.
She recently won the Ladies No-Limit Texas Hold 'Em at the World Series of Poker and the World Poker Tour Ladies Night III, the first to hold both titles.
Although she's not wearing her winnings this day as she sits in her dressing room, she often does.
"That's the great thing about poker," she says. "You get jewelry – stuff you can wear.
"Oscar, Golden Globe, Emmy, you can't hang that around your neck. But everywhere you go, you've got your poker gold and diamond bracelet on; everyone knows you won."
The birthday bunch
Singer Chubby Checker is 64. Magician Roy Horn (Siegfried & Roy) is 61. Singer-guitarist Lindsey Buckingham (Fleetwood Mac) is 56. Blues singer Keb' Mo' is 54. Actor Peter Frechette ("Profiler") is 49. Drummer Tommy Lee is 43. Actress Janel Moloney ("The West Wing") is 36. Singer Gwen Stefani (No Doubt) is 36. Singer Kevin Richardson (Backstreet Boys) is 34. Actress Keiko Agena ("Gilmore Girls") is 32. Actress Neve Campbell is 32. Singer India.Arie is 30. Actor Seann William Scott is 29. Singer Ashlee Simpson is 21.
Local journalism is essential.
Give directly to The Spokesman-Review's Northwest Passages community forums series -- which helps to offset the costs of several reporter and editor positions at the newspaper -- by using the easy options below. Gifts processed in this system are not tax deductible, but are predominately used to help meet the local financial requirements needed to receive national matching-grant funds.
Subscribe now to get breaking news alerts in your email inbox
Get breaking news delivered to your inbox as it happens.
---