News > Nation/World
Playwright August Wilson dies of liver cancer at 60
Mon., Oct. 3, 2005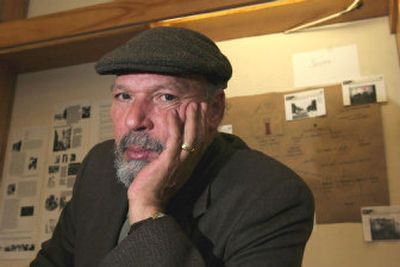 NEW YORK – Playwright August Wilson, whose epic 10-play cycle chronicling the black experience in 20th-century America included such landmark dramas as "Fences" and "Ma Rainey's Black Bottom," died Sunday of liver cancer, a family spokeswoman said. He was 60.
Wilson died at Swedish Medical Center in Seattle, surrounded by his family, said Dena Levitin, Wilson's personal assistant. The playwright had disclosed in late August that his illness was inoperable and he had only a few months to live.
"We've lost a great writer, I think the greatest writer that our generation has seen and I've lost a dear, dear friend and collaborator," said Kenny Leon, who directed the Broadway production of "Gem of the Ocean" as well as Wilson's most recent play, "Radio Golf," which just concluded a run in Los Angeles.
Wilson's plays were big, often sprawling and poetic, dealing primarily with the effects of slavery on succeeding generations of black Americans: from turn-of-century characters who could remember the Civil War to a prosperous middle class at the end of the century who had forgotten the past.
The playwright's astonishing creation, which took more than 20 years to complete, was remarkable not only for his commitment to a certain structure – one play for each decade – but for the quality of the writing. It was a unique achievement in American drama.
During that time, Wilson received the best-play Tony Award for "Fences," plus best-play Tony nominations for six of his other plays, the Pulitzer Prize for both "Fences" and "The Piano Lesson," and seven New York Drama Critics' Circle prizes.
Pittsburgh, Wilson's birthplace, is the setting for nine of the 10 plays in the cycle ("Ma Rainey's Black Bottom" is set in a Chicago recording studio). Although he lived in Seattle, the playwright had a great deal of affection for his hometown, especially the Hill District, a dilapidated area of the city where he spent much of his youth.
Wilson, a bulky, affable man who always had a story to tell, usually returned to Pittsburgh once a year to visit his mother's grave, but he said he couldn't live there: "Too many ghosts. But I love it. That's what gave birth to me."
Born Frederick August Kittel on April 27, 1945, he was one of six children of Frederick Kittel, a baker who had emigrated from Germany at the age of 10, and Daisy Wilson. A high school dropout, Wilson enlisted in the Army but left after a year, finding employment as a porter, short-order cook and dishwasher, among other jobs. When his father died in 1965, he changed his name to August Wilson.
He started writing in 1965, when he acquired a used typewriter. His initial works were poems, but in 1968, Wilson co-founded Pittsburgh's Black Horizon Theater.
Later this month, a Broadway theater, the Virginia, will be renamed for Wilson, a rare honor also bestowed on such theater greats as Eugene O'Neill, Richard Rodgers, George Gershwin, Helen Hayes and Al Hirschfeld.
Wilson, who was married three times, is survived by his wife, costume designer Constanza Romero; their daughter Azula Carmen, and another daughter, Sakina Ansari, from his first marriage.
Local journalism is essential.
Give directly to The Spokesman-Review's Northwest Passages community forums series -- which helps to offset the costs of several reporter and editor positions at the newspaper -- by using the easy options below. Gifts processed in this system are not tax deductible, but are predominately used to help meet the local financial requirements needed to receive national matching-grant funds.
Subscribe now to get breaking news alerts in your email inbox
Get breaking news delivered to your inbox as it happens.
---