News > Nation/World
Tour boat flips, killing at least 20
Mon., Oct. 3, 2005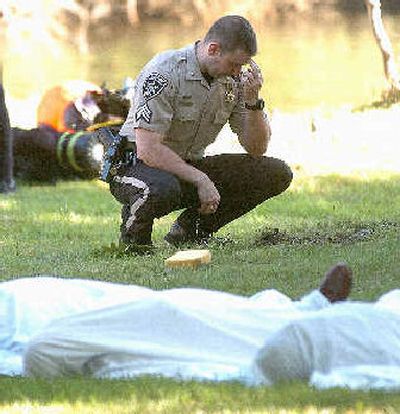 LAKE GEORGE, N.Y. – A glass-enclosed boat carrying tourists on a senior citizens' cruise overturned Sunday on a calm, chilly lake in upstate New York, killing at least 20 people and sending more than two dozen shivering passengers to a hospital.
The accident may have occurred when the boat was hit by the wake of a larger passing vessel, Warren County Sheriff Larry Cleveland said. "We haven't ruled anything out yet," he said.
The boat was carrying a tour group from the Trenton, Mich., area and was sailing just north of the village of Lake George, a popular tourist destination. With calm waters, clear skies and temperatures in the 70s, it seemed perfect boating weather.
The 40-foot Ethan Allen capsized around 3 p.m. on Lake George about 50 miles north of Albany in the Adirondack Mountains.
The accident apparently happened so fast that none of the passengers was able to put on a life jacket, Cleveland said.
Adult boat passengers are not required to wear life jackets in New York.
Patrol boats that reached the scene within minutes found other boaters already pulling people from the water. All passengers had been accounted for within two hours.
Twenty-seven people were taken to a hospital in nearby Glens Falls. Some suffered broken ribs and some complained of shortness of breath. Five people were to be admitted, hospital spokesman Jason White said.
Police investigators were at the hospital late Sunday to question survivors.
Dorothy Warren, a resident who said she brought blankets and chairs to shore for survivors, said one passenger told her "she saw a big boat coming close and she said, 'Whoop-dee-doo. I love a rocking boat."'
Warren said the woman did not know how she got out of the water but said her mother was killed.
Officials gave conflicting information on the number of dead and passengers. Cleveland said there were 48 or 49 people aboard, which is close to the boat's maximum capacity of 50.
Investigators were interviewing survivors to get an accurate count. The National Transportation Safety Board was expected at the lake today, the sheriff said.
Many of the bodies were laid out along the shore, and the site was blocked off by police with tarps. A hearse, police vehicles and several sport utility vehicles later began taking the dead from the scene.
The weather did not appear to be a factor on the lake, a long, narrow body of water that is a popular tourist destination in the summer and quiets down after Labor Day. The water temperature was 68 degrees.
Representatives of Shoreline Cruises, which operates the boat, could not immediately be reached for comment.
The boat's owner, Jim Quirk, whose family has operated Shoreline Cruises for decades, told the Glens Falls Post-Star: "It is a tragedy and it's very unfortunate."
"Nothing of this magnitude has ever happened," state police Superintendent Wayne Bennett said. "It's unprecedented."
As dusk fell, several police boats were on the water, and at least half a dozen divers were in a small cove on the west side of the lake.
The Ethan Allen lay at the bottom of the lake in 70 feet of water.
Cleveland said the captain survived. He was the only crew member aboard.
Local journalism is essential.
Give directly to The Spokesman-Review's Northwest Passages community forums series -- which helps to offset the costs of several reporter and editor positions at the newspaper -- by using the easy options below. Gifts processed in this system are not tax deductible, but are predominately used to help meet the local financial requirements needed to receive national matching-grant funds.
Subscribe now to get breaking news alerts in your email inbox
Get breaking news delivered to your inbox as it happens.
---