Sports
Vick hurt during Falcons' win; injury not considered serious
Mon., Oct. 3, 2005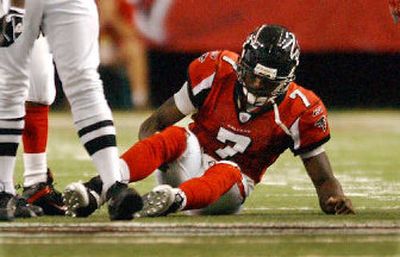 Falcons quarterback Michael Vick was knocked out of Sunday's game against the Minnesota Vikings with a sprained right knee ligament, but said the injury wasn't serious.
Even though Vick didn't return after going down midway through the second quarter, he expects to play next week against defending Super Bowl champion New England.
"The way I feel and from what the doctors tell me, I don't feel like it's serious," Vick said. "We just took the precaution to come out."
He left with the Falcons leading 14-0. Backup Matt Schaub went the rest of the way, finishing off a 30-10 rout of the Vikings.
Vick was hurt when he rolled right to throw and got hit hard by Minnesota's Erasmus James, right after delivering an incomplete pass. The 266-pound James fell on top of the quarterback as they tumbled to the turf.
Vick grabbed at his shin and remained down for several minutes, the Georgia Dome fans gasping when they realized who was injured. The two-time Pro Bowler was surrounded by three trainers and coach Jim Mora.
Finally, Vick climbed to his feet and walked slowly off the field to a standing ovation.
Manning-Harrison connection ties record
Peyton Manning and Marvin Harrison tied Steve Young and Jerry Rice for the NFL record of most touchdown passes between a quarterback and a receiver with their 85th connection during a road win over Tennessee.
The only question left now for the Indianapolis duo is what the final records will be when they quit playing.
"It kind of hits me knowing the fact it's still early in both our careers," Harrison said.
"You just never know when it's going to end or what it's going to be when it's done. But the main focus is that we stay together and win football games and put that under our belts as well as a lot of wins, and hopefully some championships."
Hall ties return record
Kansas City's Dante Hall tied an NFL record with his sixth career kickoff-return touchdown, a 96-yarder in the second quarter of a 37-31 loss to the Philadelphia Eagles in Kansas City, Mo.
It was the 10th kick-return touchdown of Hall's career, his first since a 97-yard kickoff return against Denver on Dec. 19, 2004.
Hall now shares the kickoff return record with Ollie Matson, Gale Sayers, Travis Williams and Mel Gray.
Extra points
NFL teams wore a green sticker on the back-left of their helmets Sunday that read "Futbol Americano," promoting the game between the 49ers and Cardinals that was played in Mexico City on Sunday night. … The Bengals lost centers Rich Braham and Larry Moore to knee injuries during the first half of a win over visiting Houston, forcing guard Eric Steinbach to play the position. … Running back Jarrett Payton, son of the late Walter Payton, finally played in his first NFL game Sunday when the Tennessee Titans promoted him from the practice squad. He didn't get into the 31-10 loss to Indianapolis until the end, but he finished with four carries for 37 yards. … St. Louis starting tight end Roland Williams dislocated his right knee in a loss to the Giants and will likely miss the rest of the season.
Local journalism is essential.
Give directly to The Spokesman-Review's Northwest Passages community forums series -- which helps to offset the costs of several reporter and editor positions at the newspaper -- by using the easy options below. Gifts processed in this system are not tax deductible, but are predominately used to help meet the local financial requirements needed to receive national matching-grant funds.
Subscribe to the sports newsletter
Get the day's top sports headlines and breaking news delivered to your inbox by subscribing here.
---