News > Nation/World
Both sides worry about Miers
Tue., Oct. 4, 2005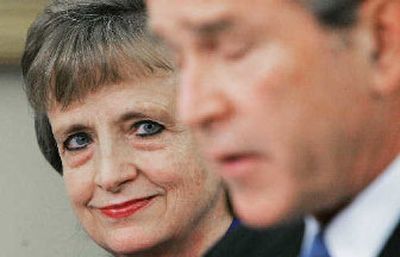 WASHINGTON – In choosing Harriet Miers, his longtime legal aide, to be the next Supreme Court justice, President Bush confounded partisans on both sides of the liberal-conservative divide in American politics who'd been expecting a well-known and predictable conservative.
The Senate's top Democrat and top Republican both praised Miers' selection, but conservative activists lit a firestorm of doubt and criticism, liberal groups voiced disappointment, and many inside players held their tongues until they could learn more about her.
Miers, a Bush loyalist who serves as White House counsel, has no judicial experience and her legal philosophy is unknown. Her lack of a paper trail of legal opinions left many – right and left – in doubt as to what views she might bring to the nation's highest court.
The stakes are huge. If confirmed, Miers would replace Justice Sandra Day O'Connor, a key swing vote on the nine-member court, at a time when the institution is already in transition, and great issues of American law and society – from abortion rights to affirmative action and federal-state relations – potentially hang in the balance.
Throughout U.S. history, about one-third of Supreme Court justices came to the court without any previous judicial experience, including the late Chief Justices William Rehnquist and Earl Warren.
Bush announced Miers' appointment to succeed O'Connor at 8:01 a.m. EDT – a time that gave him easy access to the largely female viewing audience of TV's morning news shows.
The president portrayed Miers, 60, as a female pioneer in the field of law and a woman whose real-world experience would add desirable diversity to a court now stocked with more-abstract intellectuals. In that he echoed the appeal that Ronald Reagan used when he picked O'Connor to become the Supreme Court's first female justice in 1981.
Like O'Connor, a former Arizona legislator, Miers has political experience and deep roots in the Southwest. She served on the Dallas City Council from 1989-91. She also has a long record of community service, including work with a Dallas church group that helps newly released prison inmates rejoin society.
"Harriet's life has been characterized by service to others, and she will bring that same passion for service to the Supreme Court of the United States," Bush said. "I've come to agree with the late Chief Justice William Rehnquist, who wrote about the importance of having judges who are drawn from a wide diversity of professional backgrounds.
" … I've sought to find an American of grace, judgment and unwavering devotion to the Constitution and laws of our country. Harriet Miers is just such a person," Bush said at the White House. "I know her heart; I know her character."
Top Senate leaders seemed to bless her nomination, though enough rank-and-file senators held their tongues to leave her fate uncertain. Senate leaders said they would try to have her cleared to join the Supreme Court by Thanksgiving.
Senate Majority Leader Bill Frist, R-Tenn., expressed confidence that Miers would win confirmation.
"She has demonstrated her leadership, her character, her integrity in the past. She is a woman who understands judicial restraint," he said after meeting with the nominee on Monday.
Senate Democratic Leader Harry Reid of Nevada gave Miers a warm welcome as well, agreeing that her real-world experience is an asset.
"I think that's a plus, not a minus," Reid said, a smiling Miers at his side. "I'm very happy that we have someone like her."
Reid opposed the nomination of Chief Justice John Roberts.
The initial reaction from most Democrats was lukewarm, at best.
"We just don't know very much," said Sen. Charles Schumer, D-N.Y., who also opposed Roberts.
The strongest reactions to Miers came from conservative activists outraged that Bush hadn't nominated a known conservative theorist with strong and predictable views on constitutional law, in the mold of Justice Antonin Scalia.
Confirmthem.com, a group formed to lobby for Bush's judicial appointments, declined to endorse Miers. Its Web site noted that Miers had donated $1,000 to Al Gore's 1988 presidential campaign and another $1,000 to the Democratic Party.
In a radio interview, Vice President Dick Cheney said Bush knew about those, but also knew she had become a Bush loyalist by 2000.
In one sign of how her nomination crossed activists at both extremes, Eli Pariser, executive director of the liberal activist group MoveOn.org Political Action, endorsed reservations voiced by Manuel Miranda, chairman of the Third Branch Conference, a conservative coalition of organizations working on judicial issues.
Miers' lack of a judicial record left many desperate for more information about her views on abortion, gay rights, the death penalty, property rights, civil liberties and other hot-button issues that are likely to come before the court.
Local journalism is essential.
Give directly to The Spokesman-Review's Northwest Passages community forums series -- which helps to offset the costs of several reporter and editor positions at the newspaper -- by using the easy options below. Gifts processed in this system are not tax deductible, but are predominately used to help meet the local financial requirements needed to receive national matching-grant funds.
Subscribe now to get breaking news alerts in your email inbox
Get breaking news delivered to your inbox as it happens.
---