Sports
Colts offense finds stride
Tue., Oct. 4, 2005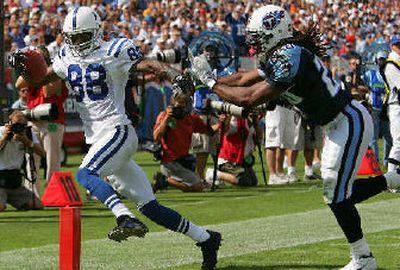 The Indianapolis Colts spent three weeks answering questions about their offense.
So they let actions send the message: everything is OK.
Peyton Manning and Marvin Harrison are hooking up for touchdowns again, Edgerrin James is still running hard and the Colts are starting to look like the high-scoring machine most people expected when the season began.
"We played very well, very efficiently offensively and we made third-down conversions when we needed them," coach Tony Dungy said Monday, a day after the Colts' best offensive performance of the year.
Sunday's result was impressive.
Manning threw four touchdown passes, two to Harrison. James rushed 21 times for 90 yards and the defense again was stifling as the Colts cruised to a 31-10 victory at Tennessee. Dungy called it the best all-around game his team has played this year.
Vick expected to start
Michael Vick is expected to start against New England this week after an MRI confirmed Monday that he did not seriously injure his right knee Sunday in Atlanta's victory over Minnesota.
"It confirmed that it was just a mild sprain of his MCL, and he is day-to-day," coach Jim Mora said. "That ought to put that to rest for a least two or three minutes from now when someone asks another question about it."
Vick was injured when Minnesota rookie defensive end Erasmus James knocked him to the ground and fell on his leg in the second quarter of Atlanta's 30-10 win.
Matt Schaub replaced Vick and played the rest of the game.
Mexico's credibility bolstered
Expansion to Mexico still is a generation away despite the success of the NFL's first regular-season game staged outside the United States, commissioner Paul Tagliabue said.
Tagliabue said the Arizona Cardinals' 31-14 victory over the 49ers in Mexico's capital lent credibility to his league south of the border. A record 103,467 fans packed cavernous Azteca Stadium on Sunday night, the largest regular-season crowd in NFL history.
But Tagliabue said the size of the crowd wasn't the key factor.
"I think this game lets the fans here in Mexico, the athletes here in Mexico and businesses and everybody else know that we're for real," he said.
Rogers suspended four games
Detroit Lions receiver Charles Rogers will be suspended for four games for violating the NFL's substance abuse policy, ESPN reported.
Unless Rogers appeals, the suspension could be announced this week, ESPN reported.
NFL spokesman Greg Aiello said the league had no comment. A message seeking comment from Rogers' agent, Kevin Poston, was left Monday night.
Around the league
Tampa Bay's Carnell "Cadillac" Williams may be limited in practice this week because of a sore hamstring and sprained foot, and head coach Jon Gruden stressed it was too early to say if the rookie running back will play against the Jets. … Police sprayed mace on Chiefs tight ends coach Jason Verduzco before Sunday's loss to the Eagles after he became combative when he wasn't allowed to turn into the stadium entrance he said he normally uses. The 35-year-old Verduzco also was cited for trying to harm an officer. … Bills defensive tackle Ron Edwards had tests on his right shoulder injury, leaving his status uncertain for Buffalo's home game against Miami this weekend. … Chargers left guard Toniu Fonoti will have further surgery on his broken right hand and is expected to be out two to three more weeks. … Raiders center Jake Grove underwent arthroscopic surgery on his right knee and will likely miss three to four weeks.
Local journalism is essential.
Give directly to The Spokesman-Review's Northwest Passages community forums series -- which helps to offset the costs of several reporter and editor positions at the newspaper -- by using the easy options below. Gifts processed in this system are not tax deductible, but are predominately used to help meet the local financial requirements needed to receive national matching-grant funds.
Subscribe to the sports newsletter
Get the day's top sports headlines and breaking news delivered to your inbox by subscribing here.
---