News > Spokane
'Freak' dancing freaks out parents
Tue., Oct. 4, 2005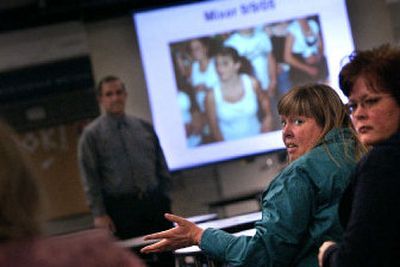 The catch phrase "dance face to face and leave some open space" isn't catching on at Central Valley High School.
Central Valley joined several other Greater Spokane League schools this week by banning informal dances, also known as mixers, because of sexually explicit dancing by students. The ban affects one dance that was scheduled for later this year, and others until further notice.
Students will still have the prom and other formal date dances to look forward to, but not the informal gatherings.
"I think part of the issue is that the students don't know how to dance to the type of music that is being played now," said CV Principal Mike Hittle. "It's what they see on MTV, and in the clubs, and it's gotten to the point where it is just inappropriate."
The dancing is called "freaking."
The hip-hop style involves grinding and gyrating against a dance partner or several people at once. At the hips, from behind, from below – no place is off limits during "freak" dancing.
It's the only way some students know to dance. But staff and parents say it looks like sex with clothes on.
It's not just the staff who object. Some students are also taking a stand.
At Mt. Spokane High School in the Mead School District north of Spokane, student leaders voted to do away with mixers after the first dance of the year, when staff had to turn on the lights because of inappropriate behavior by a few students.
"Our student leadership looked at it and just said that's not what we're about," said Vice Principal Jim Preston. "We will still try to create opportunities for students to come together and celebrate, but we just want it to be in an appropriate or positive manner."
Like CV, Mt. Spokane will continue to have formal date dances like homecoming and prom. Spokane high schools also are cutting back on mixers. Shadle Park put all mixers on hold between homecoming and prom. There were issues with behavior, low attendance and a lack of volunteer chaperones, said district spokeswoman Terren Roloff.
Ferris and Lewis and Clark also stopped mixers. Ferris administrators said if the upcoming homecoming dance goes well, students will be allowed to schedule a mixer.
There are eight dances each year for Central Valley students, and only two of those are mixers. The other six are formal date dances.
University High School has not had any trouble this year, and will continue to offer mixers, said Assistant Principal Sherry Clark.
"I think it's just we've been lucky and we've been proactive," Clark said. Along with reminders in class, Clark said staff greets students at the door with reminders that crude dancing is not allowed.
CV tried the same tactics. On the first day of school in September administrators talked to students about lewd dancing. They made announcements and reminders during morning bulletins, not to mention repeated warnings at the dances themselves.
Last week, a letter was sent home to Central Valley students and parents, explaining the decision to discontinue the mixers.
While fighting, vandalism, thefts, alcohol use and dress code violations were also part of the problem, the key issue was the inappropriate dancing.
At a Sept. 9 mixer, school staff and parent volunteers removed 70 students for freaking. As the number of warnings given by staff increased, and the number of students removed went up, so did the number of violations, Hittle said in the letter to parents.
"It became obvious that this was a game to the students," the letter said.
At the homecoming dance two weeks ago, 16 students were asked to leave. "(Homecoming) is what basically drove our decision," Hittle said. "This might be what's needed to get everybody's attention."
On Monday night, Hittle met with a group of parents and students who are upset about the elimination of the mixers.
"I agree that it's disgusting," said CV senior Chelsea Pearce, 18. "I just feel like the people that are acting inappropriately are getting our dances taken away."
Pearce said it's the same students who return year after year, acting inappropriately, and those students need to be banned from the dances. Not everyone.
"I think we should just get rid of the bad," Pearce said. "Those same people keep making the mistakes, and we are getting punished for it."
But with 70 or more students being asked to leave, it becomes a discipline nightmare, school officials said.
"This has been something we have been working with, and it has been progressing for the last four or five years," Assistant Principal Glenna Bouge told the group Monday. "It looks like them having sex on the floor."
Prior to the Sadie Hawkins dance scheduled for Oct. 29, staff will offer dance classes to students who want to learn another way to dance.
The phenomenon of "dirty dancing" is not a new one. Elvis and his gyrating pelvis shocked adults on "The Ed Sullivan Show." A generation later, teens watched "Footloose," a 1984 film in which a rebellious high-school student tries to organize a prom in a conservative town where teen dancing is forbidden because it promotes promiscuity. In the early 1990s jaws dropped when Sir Mix-A-Lot made a debut with "Baby Got Back," a raunchy tune about "big butts" that had teens shaking their rumps.
"I think every generation has had whatever it is that takes it to the edge," said Daren Anderson, the owner of Big Sound Entertainment of Spokane. Anderson has been a DJ at school dances since 1987. "I think students know what is and isn't acceptable, but more and more they seem to want to go against the grain."
DJs play an important role at the dances, because they are in the position of picking music that won't provoke certain behaviors, Preston said.
"If the crowd is dancing a little more inappropriate, they can play music that doesn't lend itself to that," Preston said.But sometimes just changing the music is not enough.
"You're always going to have that small minority group that wants to push the limits," Anderson said. "I think you could play 'Rudolph the Red-Nosed Reindeer,' and the kids are going to dance how they want to dance."
Local journalism is essential.
Give directly to The Spokesman-Review's Northwest Passages community forums series -- which helps to offset the costs of several reporter and editor positions at the newspaper -- by using the easy options below. Gifts processed in this system are not tax deductible, but are predominately used to help meet the local financial requirements needed to receive national matching-grant funds.
Subscribe now to get breaking news alerts in your email inbox
Get breaking news delivered to your inbox as it happens.
---