News > Nation/World
Sweep of rebels continues in Iraq
Tue., Oct. 4, 2005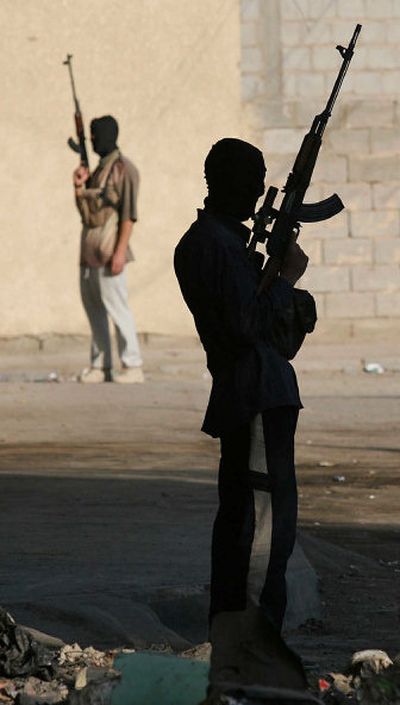 QAIM, Iraq – With snipers on rooftops and helicopters hovering overhead, U.S. forces clashed with insurgent fighters Monday while searching homes in a town near the Syrian border.
In Baghdad, Iraq's oil minister narrowly escaped an assassination attempt when a bomb hit his motorcade.
While U.S. forces pushed ahead with their offensive further west, fighting erupted in the capital of Iraq's Anbar province, with masked militants attacking an Iraqi patrol and sparking a gunbattle in the streets of Ramadi.
Oil Minister Ibrahim Bahr al-Uloum was headed out of the capital to attend the opening of a rebuilt refinery to the north when the roadside bomb hit his seven-car motorcade Monday morning, killing three of his bodyguards, the ministry said. Bahr al-Uloum was unhurt.
The assassination attempt came a week after a car bomb at a checkpoint near the Oil Ministry killed at least three ministry employees and seven policemen.
The violence came less than two weeks before a national referendum on a new constitution. Al-Qaida in Iraq and other groups in the Sunni-led insurgency have launched a wave of violence to wreck the Oct. 15 vote, killing at least 207 people in the past eight days, including 16 U.S. forces.
The U.S. offensive near the western border aims to sweep out al-Qaida in Iraq insurgents who have made the area a stronghold and used it to bring foreign fighters in from Syria.
The sweep, codenamed Operation Iron Fist, began Saturday in the village of Sadah and has spread to Karabilah and Rumana on the banks of the Euphrates River, 180 miles northwest of the capital.
U.S. helicopters fired rockets at targets in Rumana, where a roadside bomb blew up near an American armored vehicle, sending up a plume of black smoke, witnesses said, but no U.S. casualties were reported.
In Karabilah, troops searched house-to-house for militants, apparently meeting stiffer resistance than in Sadah, which most fighters fled before the U.S. troops moved in.
Marine snipers fired from rooftops and U.S. helicopters flew overhead as the advance was slowed for about an hour by insurgent fire, a CNN journalist embedded with the Marines said.
Local journalism is essential.
Give directly to The Spokesman-Review's Northwest Passages community forums series -- which helps to offset the costs of several reporter and editor positions at the newspaper -- by using the easy options below. Gifts processed in this system are not tax deductible, but are predominately used to help meet the local financial requirements needed to receive national matching-grant funds.
Subscribe now to get breaking news alerts in your email inbox
Get breaking news delivered to your inbox as it happens.
---