News > Idaho
Oprah airs Groene story
Wed., Oct. 5, 2005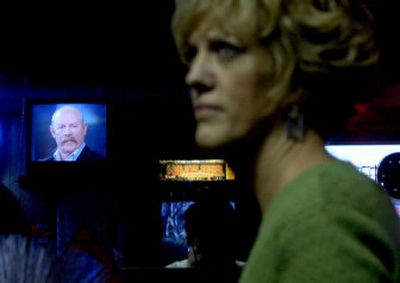 Oprah Winfrey has had it with sex offenders being released from prison only to abduct, abuse and even commit murder.
Shasta Groene's story out of Kootenai County was the last straw, Winfrey said during Tuesday's episode of her national television talk show. Now Winfrey is putting up $100,000 rewards for people who help capture sex offenders like Joseph Edward Duncan.
"We can change the laws so that when, in this country, a child is molested the first time, that person is put behind bars and is never let out," Winfrey said angrily. "Never let out! I'm so sick of it."
Duncan, a 42-year-old convicted rapist, is accused of murdering Shasta's mother, 13-year-old brother and her mother's boyfriend. He's facing federal charges for kidnapping 8-year-old Shasta and her 9-year-old brother, Dylan, from the scene of the slayings – holding them hostage in the Montana woods for weeks – and for Dylan's death.
Shasta's father, Steve Groene, and her grandmother and aunt appeared on Tuesday's show, which was taped in late summer.
Steve Groene told Winfrey that he hopes Duncan receives the death penalty.
"I believe that's what's deserved in this case," Groene said, "And I believe that if you take somebody's life, you should give yours up in return. This guy took four lives and, unfortunately, we can only kill him once."
Darlene Torres said she learned of the murder of her daughter, Brenda Groene, when someone called and told her to turn on her television the evening of May 16. She saw news footage of the family's home on the outskirts of Coeur d'Alene.
"I just started falling on my knees, panicking, praying," Torres said, apologizing as she broke down crying.
"That – the way they described the house, there's only one there, and that was my daughter's."
Torres said she was the one who first told Steve Groene the news. She said they called authorities for more information, but they wouldn't release many details.
"There were five people in there," Torres said.
"There was only three to be found, and so where were the other two?"
According to Winfrey's Web site, Steve Groene told her that Shasta is "in generally good health and has returned to her regular activities."
"She's been riding horses a lot and swimming with her friends," Groene said.
Winfrey said Tuesday that each Friday she will post pictures of the nation's most wanted sex predators on her site, www.oprah.com.
"Memorize their faces because you could be the one," Winfrey said.
"It took one person to save Shasta, and you could be the one to save the next child."
Local journalism is essential.
Give directly to The Spokesman-Review's Northwest Passages community forums series -- which helps to offset the costs of several reporter and editor positions at the newspaper -- by using the easy options below. Gifts processed in this system are not tax deductible, but are predominately used to help meet the local financial requirements needed to receive national matching-grant funds.
Subscribe now to get breaking news alerts in your email inbox
Get breaking news delivered to your inbox as it happens.
---