News > Features
Adventures of Caillou
Mon., Oct. 10, 2005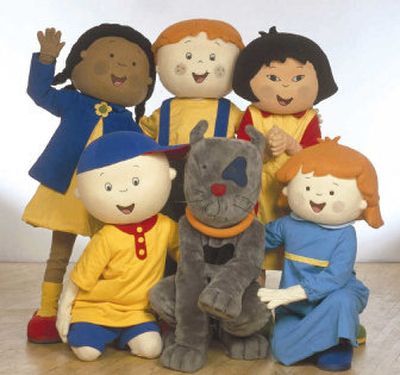 One of the calmest cartoons on television is making the leap to the stage.
Four-year-old Caillou, the main character of the award-winning PBS series by the same name, certainly isn't the first kids' show character to move from books to television to stage, but show promoters say Caillou's stage production will be different.
Anyone who's watched "Caillou" on television can understand why. In a stark contrast to be-bopping, interactive kid shows like "Blue's Clues," "The Wiggles," "Dora the Explorer" and even "Sesame Street," "Caillou" takes on more Mister Rogers-like qualities.
" 'Caillou' speaks to their emotional side and basic life issues," said Matt Gibson, marketing director for the Spokane Opera House, where
"Caillou's Big Book Club" lands on Saturday. "They can have an entire episode about going to the supermarket."
And that's just it. Going to the supermarket is such a mundane task for grownups, but it can be a big deal for a young kid, both in an exciting way and a difficult one, especially if it interrupts something else they had in mind or if it's full of rules.
Indeed, Caillou, like the millions of 4-year-olds he represents, is prone to whining about things that aren't going the way he wants them to. (Now do you see why youngsters can relate?) But his whining is always addressed in each show by grownups who try to help him see the bigger picture.
"It's enlightening for kids to watch and be able to say it's not just them (feeling that way)," said Gibson, whose 5-year-old son was a big "Caillou" fan.
Capturing that child development approach to everyday issues and bringing it to stage is what the creators of "Caillou's Big Book Club" have tried to do. The live production will hit Spokane on Saturday evening with a 6 p.m. show at the Opera House.
"It's a very colorful, vibrant stage show," Gibson said. The premise: Caillou is stuck inside on a rainy day with nothing to do (insert whining here) until a special friend comes along and shows him the magic of reading.
Caillou and his friends bring to life their favorite books, in the process demonstrating that there are all kinds of things to read, from joke books to ABC books to pirate adventures and more. According to the show's press release, "Along with learning that reading is fun, the audience gets to sing, dance and participate in every aspect of this fast-paced production."
The 70-minute production may be fast-paced compared with its television counterpart, but Gibson said, "It's definitely toned down, it's not so hyperkinetic (as other kid shows).
"The good thing about Caillou is it works on a whole other level."
Local journalism is essential.
Give directly to The Spokesman-Review's Northwest Passages community forums series -- which helps to offset the costs of several reporter and editor positions at the newspaper -- by using the easy options below. Gifts processed in this system are not tax deductible, but are predominately used to help meet the local financial requirements needed to receive national matching-grant funds.
Subscribe now to get breaking news alerts in your email inbox
Get breaking news delivered to your inbox as it happens.
---