Sports
Cowboys get aggressive, manhandle Eagles
Mon., Oct. 10, 2005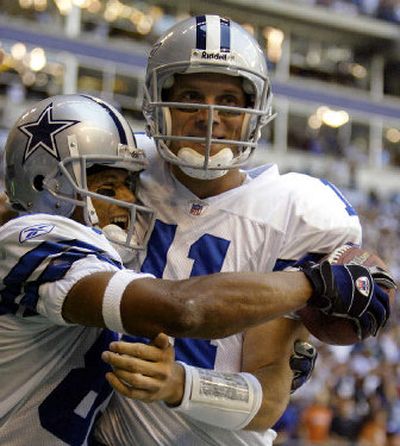 IRVING, Texas – So much for the Dallas Cowboys following their season-long script of playing conservatively and trying to win late. Coach Bill Parcells unleashed his team from the start and they stomped the Philadelphia Eagles.
Drew Bledsoe led the suddenly risky Cowboys to two early touchdowns and scores on six of their first seven drives, and the defense shut down Donovan McNabb and the league's top offense in a stunning 33-10 victory Sunday.
"You play like that, you've got a chance to beat anybody," coach Bill Parcells said.
Dallas had lost nine of 10 to Philadelphia and spent the first month of this season using a ball-control approach, resulting in every game being decided in the final minutes. Parcells hinted to expect more of the same – and the Eagles apparently fell for it.
Sucking in the defense with play action, Bledsoe hit Terry Glenn for completions of 18, 16 and 15 yards within the game's first four snaps. The last one put the Cowboys up 7-0. Minutes later, Bledsoe and Glenn connected on a 38-yard touchdown that made it 14-0.
After not scoring a point in the first quarter all season, Dallas was up 17-0 before Philadelphia even had a first down.
It was 27-3 at halftime and 30-3 after the Cowboys' first drive of the third quarter, making for the kind of one-sided game typical of this series the last five years, except with the twist of Dallas sticking it to Philly.
"What happened in years past doesn't matter," McNabb said. "This is a much better Dallas team. But we feel like we're still the best team in the NFC. We weren't able to get things going. We have to learn from it and move on."
Bledsoe finished 24 of 35 for 289 yards, three touchdowns and wasn't sacked. He joked that "if we hadn't run those two quarterback sneaks, I wouldn't have been hit all day."
Glenn had seven catches for 118 yards. Julius Jones ran for 72 yards, but didn't play the second half because of an ankle injury. Rookie Tyson Thompson gained 75 yards in his place.
"A win like this shows what we can be when we get out of our own way," said Bledsoe, who blamed turnovers and penalties for preventing better offensive showings earlier.
The NFL's top offense was held to 129 yards and the league-best passing attack put up only 110. Philadelphia's offense failed to score a touchdown for the first time in 13 games.
Eagles coach Andy Reid figures he has a lot to work on going into the bye week.
"You could pick out anything and we probably didn't do it well," Reid said.
Local journalism is essential.
Give directly to The Spokesman-Review's Northwest Passages community forums series -- which helps to offset the costs of several reporter and editor positions at the newspaper -- by using the easy options below. Gifts processed in this system are not tax deductible, but are predominately used to help meet the local financial requirements needed to receive national matching-grant funds.
Subscribe to the sports newsletter
Get the day's top sports headlines and breaking news delivered to your inbox by subscribing here.
---