News > Nation/World
Flooding in East causes evacuations
Mon., Oct. 10, 2005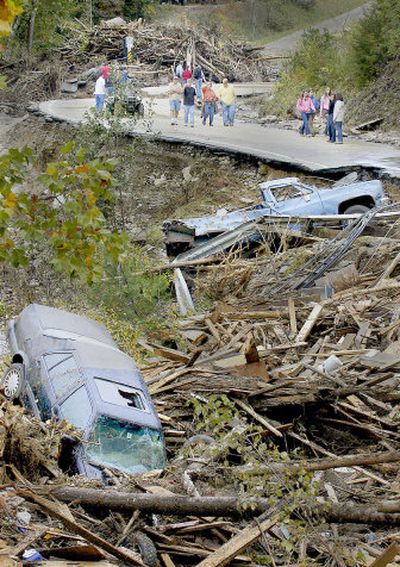 KEENE, N.H. – Hundreds of people were forced to evacuate their homes after a weekend of drenching rain washed out roads and flooded homes in states from North Carolina to New Hampshire.
At least four deaths were blamed on the storm, including two people who died in New Hampshire when a car apparently drove off a washed-out bridge into flood waters in Unity, said Pam Walsh, a spokeswoman for Gov. John Lynch.
Lynch returned from Europe on Sunday night to take charge of the response to the flooding and declare a state of emergency. "This is the worst damage they've seen from flooding in 25 years in New Hampshire," he said.
Lynch called in 500 National Guard members to assist in flood relief. Transportation Commissioner Carol Murray said police and highway crews blocked damaged roads before dawn, a move that likely prevented injuries.
"A quick assessment is we're probably looking at months, not weeks" to make repairs, she said.
The most severe flooding in New Hampshire was in Keene, where some major roads were under as much as 4 to 6 feet of water, fire officials said. Keene Fire Chief Gary Lamoureaux estimated 30 to 40 percent of the downtown area was under water.
About 500 people were evacuated, and about 150 were staying at a shelter in a recreation center Sunday. Officials heard reports that houses washed into rivers, dams were breached and bridges in several communities were washed out.
In Pennsylvania, a person died after a car struck a guardrail in Bucks County and flipped into a creek, trapping the driver. A car accident in New Jersey killed a 2-year-old boy, police said.
Eight-foot-high flood waters from the Ramapo River caused officials in New Jersey's Bergen County to evacuate about 30 residents Saturday night and early Sunday, Mayor John Szabo said. Rain also knocked out electricity to as many as 6,000 utility customers across the state.
In Vermont, more than 200 people, including residents of a Brattleboro senior citizen home, were evacuated Saturday night.
In North Carolina, Gov. Mike Easley warned residents to stay away from swollen rivers and creeks, already high from Hurricane Ophelia last month. The state's Department of Transportation reported 41 roads closed because of flooding.
The National Weather Service reported that more than 5 inches of rain fell in Wilmington, N.C., on Saturday. Allentown, Pa., received 10 inches between Friday and Saturday. New Jersey's Brunswick and Pender counties saw between 7 and 10 inches of rain in four days.
Local journalism is essential.
Give directly to The Spokesman-Review's Northwest Passages community forums series -- which helps to offset the costs of several reporter and editor positions at the newspaper -- by using the easy options below. Gifts processed in this system are not tax deductible, but are predominately used to help meet the local financial requirements needed to receive national matching-grant funds.
Subscribe now to get breaking news alerts in your email inbox
Get breaking news delivered to your inbox as it happens.
---