Sports
Gretzky enjoys victory
Mon., Oct. 10, 2005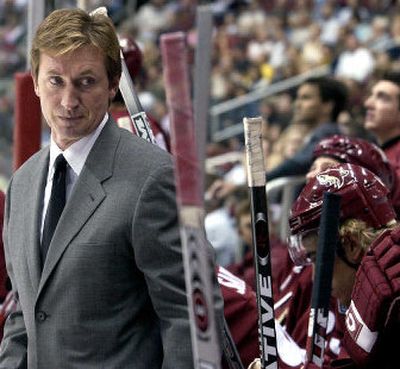 A couple of losses didn't ruin Wayne Gretzky's sense of humor.
"To get my first … it's nice," Gretzky said of his initial NHL coaching victory. "Scotty Bowman's record (1,244 wins) is pretty safe."
The Phoenix Coyotes rallied for a 2-1 victory over the Minnesota Wild on Saturday night.
Gretzky, the NHL's career leading scorer, waited three games as a coach to celebrate a victory. Winning was something that seemed to come naturally during a 20-year playing career that included four Stanley Cup championships with Edmonton.
The Coyotes' second loss – in Los Angeles on Thursday – was accompanied by an uncharacteristic blunder by the Great One, who signed off on a lineup card that took forward Fredrik Sjostrom off the roster even though he was in uniform and scheduled to play.
In the glow of a win in his home debut, Gretzky laughed that one off, too.
"My wife asked me about the scoresheet," he said. "I said, 'I'm in good company. Pat Quinn did it, and so did Ken Hitchcock, so I don't feel so bad.' "
First paycheck a bit light
The first paycheck NHL players receive this season will be cut by 12 percent so that money can be placed into escrow.
Players haven't been paid in 16 months, dating to the end of the regular season before the lockout.
As stated in the new collective bargaining agreement, player salaries can't take up more than 54 percent of league revenues. An escrow fund was put in place to ensure that owners would get their share of the pot should salaries exceed the allowed percentage.
All 13 checks that players get this season will be docked for escrow but the percentage will change. The NHL and the players' association will recalculate the percentage three more times this season, the next being in late November.
The 12 percent, which accounts for 713 players, is based on a $1.8 billion revenue estimate for the season, which is probably low. Revenues were $2.1 billion during the 2003-04 season, and that figure was based on a smaller definition of revenue than the hockey-related revenue definition of the new agreement.
"All of the early revenue indicators, including better than expected season-ticket renewals and single-game ticket sales, strong attendance figures, better than expected TV and radio revenues and ratings, suggest the 2005-06 year is shaping up much better than the conservative forecasts on which escrow dollars are based," NHLPA executive director Ted Saskin said.
If the total goes up to $2.05 billion, then players would receive back more money at the end of the season than they put into escrow.
Penguins call up Fleury
Former No. 1 pick Marc-Andre Fleury was recalled by the Pittsburgh Penguins, who placed starting goalie Jocelyn Thibault on the injured list with a badly bruised knee.
The Penguins now have three players on the roster who were chosen by Pittsburgh with the top overall pick in the NHL draft with Fleury (2003) joining Mario Lemieux (1984) and rookie phenom Sidney Crosby (2005).
Thibault was scheduled to start Saturday night's home opener – a 7-6 overtime loss to the Boston Bruins – but was scratched after Rico Fata's slap shot struck him on the knee during the morning skate.
The 20-year-old Fleury is 2-0 this season for AHL Wilkes-Barre/Scranton with a 1.00 goals-against average.
Fleury went 4-14-2 with a 3.64 goals-against average with Pittsburgh in 2003-04.
Sunday's games
Red Wings 6, Flames 3: At Detroit, Henrik Zetterberg had a goal and three assists and Detroit scored five power-play goals in a win over Calgary.
Nicklas Lidstrom, Brendan Shanahan, Mikael Samuelsson, and Robert Lang each had a goal and an assist for the Red Wings. Pavel Datsyuk added a goal and Jason Williams collected two assists.
Roman Hamrlik had a goal and an assist for the Flames and Rhett Warrener and Chuck Kobasew got the team's other two tallies.
Kings 2, Wild 1 (OT): At Los Angeles, Pavol Demitra scored on a 40-foot wrist shot with 1:29 left in overtime and Eric Belanger also scored, leading Los Angeles to a victory over Minnesota.
Manny Fernandez made 30 saves in his season debut with the Wild, after missing the first two games with back and neck spasms.
Blue Jackets 3, Blackhawks 2: At Chicago, Bryan Berard had a goal and an assist, and Marc Denis made 30 saves as Columbus defeated the Blackhawks for its first win of the season.
Jody Shelley and Jason Chimera also scored for Columbus, which had just three goals in its first two games.
Blackhawks rookie Pavel Vorobiev scored twice.
Local journalism is essential.
Give directly to The Spokesman-Review's Northwest Passages community forums series -- which helps to offset the costs of several reporter and editor positions at the newspaper -- by using the easy options below. Gifts processed in this system are not tax deductible, but are predominately used to help meet the local financial requirements needed to receive national matching-grant funds.
Subscribe to the sports newsletter
Get the day's top sports headlines and breaking news delivered to your inbox by subscribing here.
---