News > Features
Is this Prinze ready to assume his father's sitcom crown?
Mon., Oct. 10, 2005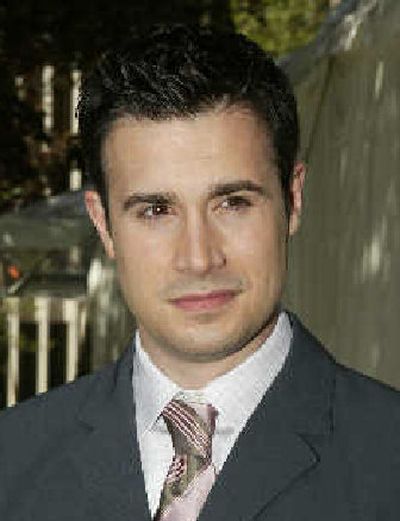 Freddie Prinze Jr. grew up with a name and face that were suitable for stardom.
Fortunately, that was far from Hollywood, and he's emerged as the gentle guy depicted in ABC's "Freddie," debuting Wednesday at 8:30 p.m.
In the sitcom carved from real life, he:
"Is surrounded by women. "I was raised by women," he says. "My mother taught me how to treat women. She taught me just how powerful they are."
"Works as a chef. In real life, his mom was a chef and he enrolled in culinary school before his career caught on.
"Displays his religion. His family, he says, was "so hard-core Catholic, it bordered on voodoo."
"Is immersed in the Puerto Rican culture. On the show, his grandmother speaks Spanish, with subtitles.
Prinze's real-life father, half-Puerto Rican and half-Hungarian, was a comedian and TV star whose "Chico and the Man" premiered in 1974. He died of a self-inflicted gunshot wound in 1977 when his son was less than a year old.
The family retreated to Albuquerque, N.M. Money was tight – Prinze juggled three jobs as a teenager – and the culture was Italian. But his Puerto Rican roots weren't lost.
"My mother always thought that was really important," says Prinze, 29. "I spent every single winter break and summers in Puerto Rico with my grandmother. …
"She said, 'When you're in America, you speak English. When you're in France, you speak French. When you speak to God, you speak in Spanish.' "
After graduation, Prinze moved to Los Angeles to study acting. "That's what I did every single day," he says. "I didn't have a date for about 11 months."
He starred in generic teen movies ("She's All That," "Summer Catch," "Head Over Heels"). He made People magazine's "most beautiful people" list.
He married another young sex symbol, Sarah Michelle Gellar, his co-star in "I Know What You Did Last Summer" and two "Scooby Doo" movies.
He recently finished "Pool Hall Prophets" with Ving Rhames, "Nailed Right In" with Alec Baldwin and will lend his voice to the animated "Happily N'Ever After," also starring his wife and Sigourney Weaver.
Overall, things have gone well – though some of his movies were bombs, and few reflected Prinze's true character.
So he crafted "Freddie," working with Bruce Helford, who produces comedian George Lopez's ABC sitcom (which airs right before "Freddie").
"I had a touch of tragedy in my family," Prinze says. "Everyone was forced to move in with me for a significant amount of time – the four of them. I … quickly lost my bedroom, (but) I wouldn't trade (that time) for anything in the world."
In the series, Prinze plays a successful Chicago chef sharing his home with his divorced sister (Jacqueline Obradors of "NYPD Blue"), his widowed sister-in-law, his grandmother and his teen niece.
"Family is the most important thing in a Latin-American family," Obradors says. "Grandma speaking Spanish and us speaking English – that's how I grew up. … things like that resonate with me."
The birthday bunch
Actor Peter Coyote is 63. Singer John Prine is 59. Actor-dancer Ben Vereen is 59. Actress Jessica Harper is 56. Singer David Lee Roth is 50. Country singer Tanya Tucker is 47. Actress Julia Sweeney is 46. Actor Bradley Whitford ("The West Wing") is 46. Actor Mario Lopez is 32. Singer Mya is 26.
Local journalism is essential.
Give directly to The Spokesman-Review's Northwest Passages community forums series -- which helps to offset the costs of several reporter and editor positions at the newspaper -- by using the easy options below. Gifts processed in this system are not tax deductible, but are predominately used to help meet the local financial requirements needed to receive national matching-grant funds.
Subscribe now to get breaking news alerts in your email inbox
Get breaking news delivered to your inbox as it happens.
---