Sports
Pessimistic Martin earns 35th victory
Mon., Oct. 10, 2005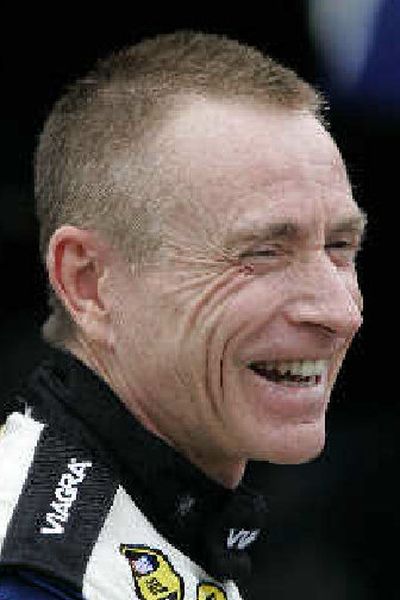 KANSAS CITY, Kan. – Mark Martin is probably NASCAR's best known pessimist.
As Martin raced toward a victory Sunday at Kansas Speedway that would keep his slim championship hopes alive, he couldn't shake the feeling that something would keep him from Victory Lane.
"We got the lead in the first half of the race and just stayed out front and that's a formula for heartbreak in my world because, more often than not, something goes wrong," Martin said.
Not this time.
Teammate Greg Biffle did give the 46-year-old Martin a late scare, but the veteran racer remained out front for the 35th victory of his career. It was Martin's first points victory – he did win an exhibition event in Charlotte in May – since June 2004 at Dover.
To do it, Martin had to hold off his Roush Racing teammates – a lot of them.
Martin and Biffle led a team sweep of the top three spots and another Roush driver, Matt Kenseth, finished fifth.
But the last laugh might belong to Tony Stewart, who finished fourth and extended his Chase lead from four points to 75. It was Stewart's 15th top 10-finish in the last 16 races and, more important, his third in the first four events of this year's 10-race Chase for the Nextel Cup championship.
Biffle, another of the 10 drivers in the Chase, passed Stewart for second place 30 laps from the end of the 267-lap Banquet 400 and went after Martin, cutting a lead of about 20 car-lengths to less than half of that.
But Martin was able to hold on, leading Biffle and Carl Edwards to the finish line. Martin jumped from ninth to seventh in the standings, 113 points behind Stewart with six races left.
"That's too far back," said Martin, that pessimism showing up again. "We can go and win us some more and you never now. But it's going to be a lot harder now than it was going to be if we could have finished in the top 10 at Talladega."
Martin's crash early in the race Oct. 2 at Talladega Superspeedway relegated him to a 41st-place finish and, worse, cost him valuable points. Sunday Martin took the lead for the first time with a two-tire stop on lap 122 and wound up leading three times for 139 laps, including the final 48 trips around the 1.5-mile D-shaped oval.
Title contenders Jimmie Johnson and Rusty Wallace finished sixth and seventh. The other two contenders, Jeremy Mayfield and Ryan Newman, finished 16th and 23rd.
Newman, who came into the race trailing Stewart by just four points, got caught up in a crash early in the race and spent the rest of the day trying to make an ill-handling car work.
He fell 75 points behind Stewart, with Biffle 88 points down.
NHRA
John Force reclaimed the Funny Car points lead after Frank Pedregon broke on the starting line in the final at the O'Reilly NHRA Fall Nationals at Texas Motorplex in Ennis.
Force drove his Ford Mustang to a 4.797-second finish at 324.05 mph.
Tony Schumacher won Top Fuel and Greg Anderson took the Pro Stock.
Formula One
Stuck behind Giancarlo Fisichella heading into the final lap of the Japanese Grand Prix in Suzuka, Japan, Kimi Raikkonen was debating which side to try to pass on. Fisichella made Raikkonen's decision easier.
"I was thinking which way to go because the inside is more easy to overtake," Raikkonen said. "But Fisichella was on the inside so I didn't have much choice. I went to the outside to try to go around him and luckily I made it."
Raikkonen passed on the outside on the first turn on the Suzuka circuit for a stunning win Sunday. The McLaren driver charged from the back of the starting grid to take his seventh victory of the season and ninth of his career.
Local journalism is essential.
Give directly to The Spokesman-Review's Northwest Passages community forums series -- which helps to offset the costs of several reporter and editor positions at the newspaper -- by using the easy options below. Gifts processed in this system are not tax deductible, but are predominately used to help meet the local financial requirements needed to receive national matching-grant funds.
Subscribe to the sports newsletter
Get the day's top sports headlines and breaking news delivered to your inbox by subscribing here.
---