Sports
Testaverde comes off couch, leads Jets to victory over Bucs
Mon., Oct. 10, 2005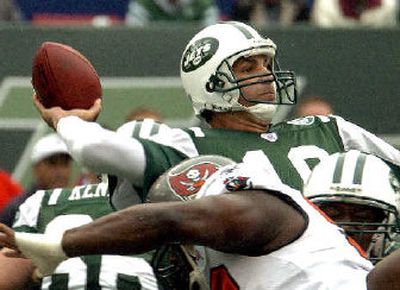 The New York Jets made 41-year-old Vinny Testaverde their desperation quarterback because they figured a guy with his experience wouldn't make a mistake that would cost them a game.
Not only was he almost mistake-proof Sunday, but he made the only play he really had to, a 17-yard completion to Laveranues Coles just north of the 2-minute warning that just about put away a 14-12 victory over Tampa Bay.
After losing quarterbacks Chad Pennington and Jay Fiedler to injury the Jets signed Testaverde, who, as Tampa Bay's Ronde Barber noted, "had been sitting on his couch eating potato chips" until he got the call.
"He did what a veteran does," said offensive coordinator Mike Heimerdinger, who scrapped the new offense he had worked on for eight months to accommodate his new-old QB.
Coach Herman Edwards had been worried Testaverde would tire by the fourth quarter. "I'm fine," Testaverde said when asked if he felt sore or tired. "It's all adrenaline. And I never even got hit. Three times, maybe. That's all."
Bledsoe, Johnson downplay sideline spat
Drew Bledsoe and Keyshawn Johnson engaged in a heated sideline exchange during the third quarter of the Cowboys' 33-10 victory against the Eagles. Both players said afterward there were no hard feelings.
"We're not mad at each other at all," Johnson said. "It's not a Drew vs. Keyshawn, Keyshawn don't like Drew … it's none of that."
The verbal spat began after Johnson fumbled and it was returned for the Eagles' only touchdown.
Bledsoe confronted Johnson for losing the football. Johnson stormed toward his quarterback and barked at him for several seconds before receivers coach Todd Haley pushed Johnson away.
Three players make contact with officials
Three players appeared to make contact with officials Sunday, with two being ejected.
Baltimore's Terrell Suggs was ejected when his facemask might have made contact with the bill of referee Mike Carey's cap while arguing a call. Shortly thereafter, the Ravens' B.J. Ward was ejected for making contact with an official. The contact seemed to be incidental.
Tampa Bay cornerback Ronde Barber inadvertently punched umpire Butch Hannah in the eye when he swung at Jets center Kevin Mawae during an altercation. Hannah appeared to be OK and stayed in the game. Barber was flagged for unnecessary roughness, but not ejected.
Extra points
Green Bay's Najeh Davenport broke his right ankle and is likely done for the season. … Michael Vick was inactive for the Falcons because of a sprained knee. … Tampa Bay rookie running back Carnell "Cadillac" Williams was inactive because of foot and hamstring injuries. … Browns rookie wide receiver Braylon Edwards remained hospitalized following surgery Saturday night to treat an infection in his arm. … Texans receiver Andre Johnson strained his right calf in the first quarter and was knocked out of the game. … Lions receiver Roy Williams injured his left leg in the second quarter and was unable to return.
Local journalism is essential.
Give directly to The Spokesman-Review's Northwest Passages community forums series -- which helps to offset the costs of several reporter and editor positions at the newspaper -- by using the easy options below. Gifts processed in this system are not tax deductible, but are predominately used to help meet the local financial requirements needed to receive national matching-grant funds.
Subscribe to the sports newsletter
Get the day's top sports headlines and breaking news delivered to your inbox by subscribing here.
---