Sports
Steelers come back for victory
Tue., Oct. 11, 2005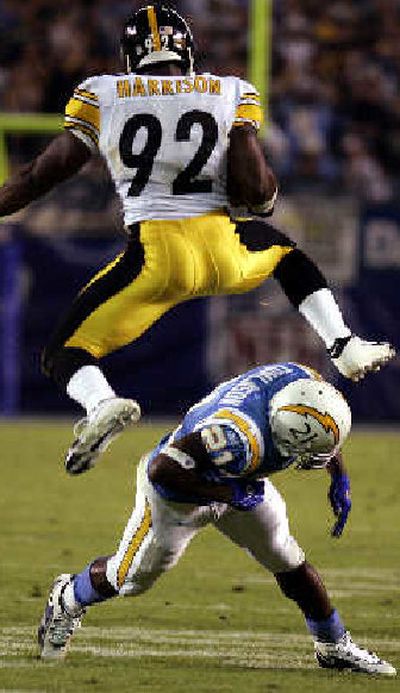 SAN DIEGO – The Bus was back, and Ben Roethlisberger thrust both fists in the air as Jeff Reed's kick won it for the Steelers.
One problem: Roethlisberger was celebrating on the bench with his left leg wrapped in ice and bandages.
Shortly after Roethlisberger limped off the field with an apparent knee injury, Reed kicked a 40-yard field goal with 6 seconds left to give the Steelers a 24-22 win over the San Diego Chargers on Monday night.
"I feel great, I feel fresh," Jerome Bettis said after scoring a touchdown in his season debut. "And officially, I am back."
Trailing 22-21 in the fourth quarter, Roethlisberger moved the Steelers into San Diego territory and had completed a 9-yard pass to Antwaan Randle El when he was hit on the knee by the helmet of Chargers rookie lineman Luis Castillo.
Roethlisberger was replaced by Charlie Batch, who has played only a handful of downs the last three years. Batch handed off three straight times to Bettis before Reed's kick.
Roethlisberger ran for one touchdown and threw for another, and Bettis rushed for a TD in his season debut for the Steelers (3-1). San Diego (2-3) had its two-game winning streak snapped.
Roethlisberger, whose knee was bent back awkwardly on the hit, was driven off the field on a cart after the game was over.
San Diego had gone ahead on LaDainian Tomlinson's 2-yard run with 4:42 left. Tomlinson was stuffed on a two-point conversion attempt that would have given the Chargers a 24-21 lead.
Tomlinson extended his NFL record by scoring a rushing touchdown in 17 straight games.
Stung by a loss to New England 15 days earlier and coming off their bye week, the Steelers bounced back with a crisp game by Roethlisberger and the defense, which made Tomlinson and the rest of the San Diego offense look average.
Tomlinson was held to 62 yards on 18 carries. Chargers quarterback Drew Brees threw his first interception in three games, which set up Bettis' touchdown run.
Roethlisberger gave the Steelers a 21-16 lead on a 16-yard pass to Heath Miller with 10:30 to go. He was impressive on the go-ahead drive, completing it in only three passes. Starting on the Pittsburgh 38, the second-year pro had completions of 33 and 13 yards to Hines Ward before hitting Miller for the touchdown.
Roethlisberger was 17 of 26 for 225 yards, with no interceptions. Bettis gained 54 yards on 17 carries.
Bettis and Roethlisberger both scored in the second quarter. On third-and-5 from the Chargers' 7, Roethlisberger lined up in the shotgun, took the snap and scrambled into the end zone.
His TD came four plays after his apparent 47-yard touchdown pass to Hines Ward was overturned after a challenge by Chargers coach Marty Schottenheimer.
Ward made a sliding catch at the San Diego 31, and thinking he wasn't touched by cornerback Quentin Jammer, jumped up and picked his way to the end zone.
After watching replays, referee Jeff Triplette ruled that Jammer's hand hit Ward's foot while he was down.
Local journalism is essential.
Give directly to The Spokesman-Review's Northwest Passages community forums series -- which helps to offset the costs of several reporter and editor positions at the newspaper -- by using the easy options below. Gifts processed in this system are not tax deductible, but are predominately used to help meet the local financial requirements needed to receive national matching-grant funds.
Subscribe to the sports newsletter
Get the day's top sports headlines and breaking news delivered to your inbox by subscribing here.
---