News > Spokane
Oldest Blackfeet dies at 103
Thu., Oct. 13, 2005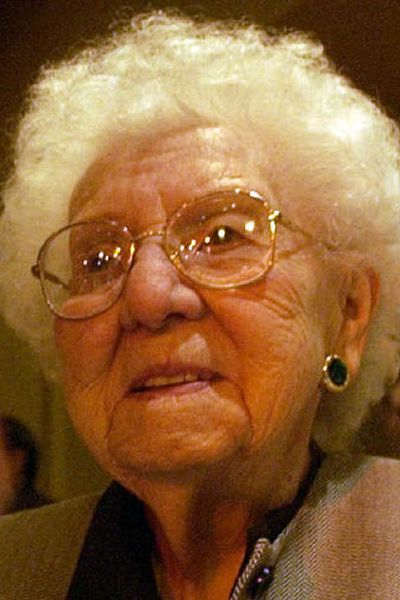 For more than a century, love nourished the life of Agnes Bird Keller.
It was all she had during childhood, growing up poor in a family of 10 children. As an adult, she made room in her heart – and home – for everyone. Keller not only cared for seven children, 34 grandchildren and numerous great- and great-great-grandchildren; she also took in 72 foster kids whom she loved like her own.
"She was the foundation of our family," said her great-grandchild, Misty Keller.
She also was a revered tribal elder, the oldest member of the Blackfeet Nation.
Agnes Bird Keller died in her sleep Sunday at a north Spokane nursing home. She was 103 years old.
A Montana native who had lived in Spokane for 22 years, Agnes Bird Keller was more than just the family matriarch; she was also a symbol of survival.
The ninth of 10 children who grew up in a log cabin, Agnes Bird Keller came from a long line of strong, proud women. Her mother, Mattie Medicine Wolf Woman, spoke only the Algonquian dialect of the Blackfeet Nation. She survived the smallpox epidemic in 1869 that killed two-thirds of the tribe. She also lived long enough to see the territory of the Blackfeet Nation, which once covered northern and much of western Montana, diminish to a small reservation.
Because of U.S. government policies, Agnes Bird Keller and other Indian children were forced to leave their families and attend boarding schools in other parts of the country. Despite the hardship that the Blackfeet endured, Keller never complained about her life, according to her children.
"She told us, 'It is always that way with a conquered people,' " her oldest daughter, Fran DeArmond, said three years ago, during Agnes Bird Keller's 101st birthday party at Northern Quest Casino. "My mother has always been optimistic despite all the changes she has lived through."
Now in their 60s and 70s, Agnes Bird Keller's five surviving children have fond memories of their youth – how their mother treated illnesses with herbs and poultices, the way she sang and played violin, how she caught trout for supper from the creek that flowed through their farm.
"Mother worked really hard," said her daughter, Evelyn Ostlie of Spokane, recalling how her mom got a job as a cook and hotel maid after her husband died in 1963. "She took care of so many people."
Her grandchildren and great-grandchildren still rave about her stories. "She would tell us how things were when she was young," said Misty Keller, 18. "She told me things that I had only read about in books."
Agnes Bird Keller went to Mass every Sunday at St. Charles Catholic Church in north Spokane until she broke her hip a few years ago. So she received communion each week from the staff of Hospice of Spokane. Every night, she prayed the rosary.
"She held that rosary so tight, you couldn't take it out of her hands," said Ostlie, 75.
During an interview in 2003, when she celebrated her 101st birthday, Agnes Bird Keller said it was love – along with prayer and a good doctor – that sustained her.
"One of the reasons that Indians survived was because of the women – women like my aunt who held the society together," her nephew, Earl Barlow said, during that birthday bash. "She's been such a good example to all the young people."
Agnes Bird Keller's funeral Mass will take place at 11 a.m. Friday at Little Flower Catholic Church in Browning, Mont. She will be buried next to her late husband, Andrew, at the cemetery in Cut Bank.
Local journalism is essential.
Give directly to The Spokesman-Review's Northwest Passages community forums series -- which helps to offset the costs of several reporter and editor positions at the newspaper -- by using the easy options below. Gifts processed in this system are not tax deductible, but are predominately used to help meet the local financial requirements needed to receive national matching-grant funds.
Subscribe now to get breaking news alerts in your email inbox
Get breaking news delivered to your inbox as it happens.
---